Video Narrows Release Window For Key Xbox One Feature
A new publicity campaign for Sunset Overdrive, may have narrowed down when users can expect Microsoft's Xbox One console to let users purchase video games on the console before they're released on store shelves.
To be clear, the video was posted by the developers creating Sunset Overdrive, not Microsoft. Still, it provides a decent time-table for when users can expect the much-needed feature to finally arrive. Brandon Whinfrey of Insomniac Games doesn't say much, just that users can rest assured that they'll be able to get Sunset Overdrive's Day One Edition content digitally.
"You can't preorder it digitally yet, but soon you will be able to." That's still vague but "soon" is a better potential release date than the one users have worked with. Microsoft has said over and over that adding a pre-order system was on the docket. During E3 2014 Xbox head Phil Spencer said that digital pre-ordering was something that Microsoft thinks is "important to [their] long term success."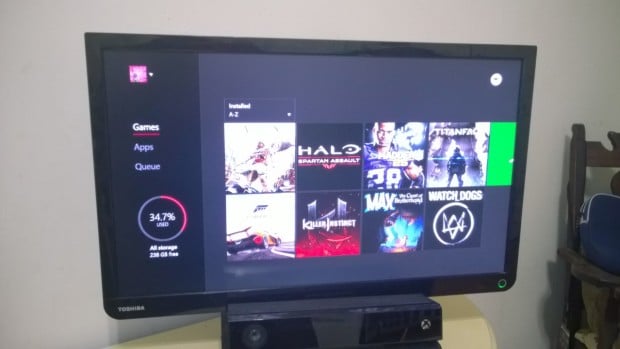 Just how important it is can't possibly be understated. Today, discs are the way users purchase games, but overtime digital games are expected to become more and more important. In fact, many of the Xbox One's key features depend on users having digital games instead of buying a disc at a store. For example, Xbox One users who download a game digitally can share those games with friends by logging into their console with their Xbox Live account. Originally, Microsoft even had plans to let users digitally loan their games to friends and family for an amount of time. Sadly, that benefit was scrapped when Microsoft realized that users wouldn't be too happy about having a console that needed to be connected to the internet once a day, even if they purchased a game on a disc.
Xbox One users can download new games digitally, but only on and after their  release date. For most games, that's not a problem. For others, not being able to pre-order hinders the entire Xbox One experience. For example, upcoming first-person shooter Destiny has a beta that's coming up next week. In order to get into the Destiny Beta Xbox One and Xbox 360 users actually have to pre-order a physical copy of the game to get a pre-order code. After they've got the code and registered it they then need to cancel the pre-order if they'd rather have the digital version. The process is absolutely ridiculous.
What makes it more conspicuous is that Microsoft absolutely nailed other aspects of digital downloads. Not only are digital game purchases available on release date, the Xbox One lets users start playing games downloaded digitally before they've finished downloading. Additionally, users can actually buy one copy of a digital game and play against friends and family on an extra console. Doing the same on the Xbox 360 would require to copies of the game and two subscriptions to Xbox Live Gold.
To Sony's credit, this isn't an issue on the PS4. Earlier this year Sony added a pre-order system to the PlayStation Network. This system works exactly the way digital pre-order systems should. Users can purchase an upcoming game and have it download before release day.
If digital pre-ordering is coming to the Xbox One before Sunset Overdrive's release date it's possible that Microsoft plans to include the feature in one of its monthly Xbox One system updates. The company has used those updates to rapidly iterate on the Xbox One's software. So far, it's added external hard drive support, headset support, a reconfigured Store design and new party app in updates since launch.
Sunset Overdrive launches on October 28th. When it does it'll be exclusive to the Xbox One. That gives Microsoft roughly three months to roll out digital pre-orders.

This article may contain affiliate links. Click here for more details.