Video of Mac OS Running on an Asus R2H UMPC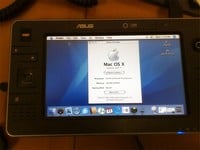 Nothing draws more skepticism these days than pictures of Apple Tablets or Mac Software running on a Tablet PC. The word Photoshop almost leaps off of your tongue. So, yesterday when I saw a post containing a picture of the OSX running on an Asus R2H UMPC, I pinged fellow GBM'er Matt Faulkner and we both decided to pass on it, thinking that it probably wasn't real.
Well, I'm not 100% sure this guarantees that it is real or not, but it at least ups the ante a bit. Only UMPC is linking to a video of that same Asus booting up (sort of like watching paint dry) and running OSX with some touch screen functionality. Here's the link to the video, (scroll by the one at the top of the page and follow the link to continue reading if you want to see the Asus video.)

As an Amazon Associate I earn from qualifying purchases.