Videos Of Vista With Glass On Toshiba M400 Tablet PC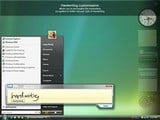 Long Zhen has posted four nifty videos showing the Vista Beta 2 running on his Toshiba M400.
"I've done several Windows Vista screencasts focusing on various important new features: Aero, file management, guided help and tablet PC functionality. These are just a taste of some of the new features you will find in Windows Vista. These screencast was done in quite a hurry, so I apologise for the lack of depth and variety.
These were all recorded on the Toshiba Portege M400 tablet PC. You might notice the resolution is quite low at 1024×768, but it wouldn't record fluidly at the native resolution of 1400×1050. Encoded to Quicktime H.264 format."

As an Amazon Associate I earn from qualifying purchases.