Viewsonic Issues a Statement on G Tablet Problems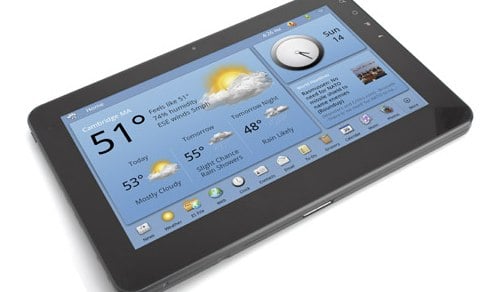 Viewsonic is in damage control mode trying to stem a small tide of bad PR brought about by Staples pulling the Viewsonic G Tablet because of what Staples labeled manufacturing issues. Viewsonic says that's not the case, admits that they've got some software problems that cause a "user experience" issue and not hardware problems. An update is promised for this week.
That would be well enough and is certainly commendable. But the press release (see below) seems to want to blame this "user experience" issue on its software partners. OK. There's a few things wrong with the PR spin here in my view.
First, the sluggish performance seems to be caused by Viewsonic including an overlay called Tap-N-Tap by just about all accounts. Second, I do believe Viewsonic chose to include that overlay. Calling it a "user experience" issue because of software that apparently wasn't ready (also Adobe hasn't certified FLASH for the G Tablet yet) points to what appears to be a haste to get to market. In a statement to Engadget, a Viewsonic rep says that because Google doesn't support this flavor of Android on Tablets, companies like Viewsonic need to  "go out and put together their own software and app stores." Well, they could have waited until there was a supported version of Android. I'm just saying.
All of this points to what we've been saying all along. With the apparent exception of the Samsung Galaxy Tab, you're better off to wait until next year for an Android Tablet.
ViewSonic Confirms High Performance of GTablet
Software Upgrade Release to Improve User Experience

WALNUT, Calif. – December 20, 2010 – ViewSonic Corp., a leading global provider of computing, consumer electronics and communications solutions, today responded to recent retailer actions surrounding its GTablet 10.1″ Android 2.2 Tablet. The GTablet, based on the nVidia Tegra II chipset, is one of the fastest Android tablets on the market today, consistently leading industry benchmarks.
"We always listen to customers; while they love the hardware, they raised several issues about the user interface," Jeff Volpe, VP and GM for ViewSonic Americas. "As a result, our software partner is releasing an upgrade that will address customer concerns. Along with great performance improvements, customers will have the flexibility to use both a standard Android interface as well as a user-customizable interface which has been significantly enhanced since the product launch." Volpe went on to say, "ViewSonic is committed to its tablet endeavors and will continue with new announcements at CES in January."
Current GTablet owners will automatically receive the upgrade through their WiFi connection by Friday, December 24. Users simply need to accept the request to install the upgrade. In addition, Adobe® Flash certification is targeted for the end of January, 2011. In the interim, users can download Flash from various websites that distribute android applications.
For the latest on GTablet software updates, please visit ViewSonic.com/gtablet beginning Wednesday, December 22. For general questions, please contact GTablet support at (866) 501-6405.

As an Amazon Associate I earn from qualifying purchases.