Vikram Maden Sums Up WinHEC News
If you've ever had to deal with the media and found the things you say taken out of context, misquoted, or even spun into a yarn that bears no resemblance to what you said (or thought you said,) you need to read Vikram Madan's summing up post from WinHEC. Not only will his thoughts bring back a rush of memories, but he points out that the the things he thought were possible got turned into formal announcements. (To prove his point here's our post on the news Vikram mentions.) And of course he says it better in pictures than in words: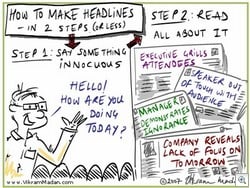 All of that said, Vikram seems to think that the upshot is postive for the UMPC future. Here's a quote:
Hopefully though, at the end of the day, we made some dent into some of the existing UMPC confusion, made some incremental additions to the overall UMPC momentum, and possibly even won a few new UMPC converts… so all in all, seems to have gone well.
Check out the full post here.

As an Amazon Associate I earn from qualifying purchases.