Viliv X70 in-stock at Dynamism and shipping same-day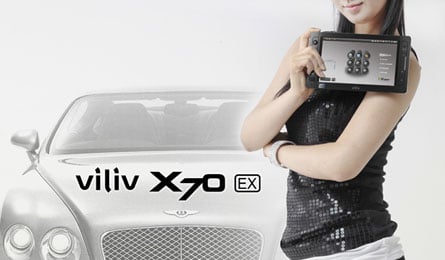 Dynamism has announced they have the Viliv X70 MID in-stock and ready to ship same-day. Looks like the ideal device to hold up while standing in front of your vanishing, expensive car.
Starting at $599.99 and available in four versions, the Viliv X70 features a 7″ WSVGA display, up to 128GB SSD, 5+ hours of movie playback, 6 days of standby time, Windows XP 5-second wake-up from standby, GPS, and optional 3G HSPA wireless. This is a fantastic tool for bringing to class, portable media playing, car navigation, mobile productivity, and much more. Much anticipated and extremely popular, the Viliv X70EX is a unique and remarkable mobile internet device (MID) that we are pleased to have in stock. Approved orders ship same day if ordered by 5 pm EST.

When purchased from Dynamism, the Viliv X70 includes Dynamism Personalized Unlimited Toll-Free Technical Support and Manufacturer's warranty.

As an Amazon Associate I earn from qualifying purchases.