Virgin Mobile Now Offers the Cheapest Deals for iPhone 5s, iPhone 5c
Prepaid customers on Virgin Mobile can finally order the iPhone 5s and iPhone 5c online and in stores and use their devices on Sprint's 3G and 4G LTE nationwide network. The Sprint-owned prepaid carrier surprised everyone with its pricing of the devices. Pricing for both handsets come in at $100 less than what Apple is charging for its contract-free unlocked model.
The prepaid carrier had announced its intentions on offering the latest iPhone models a few days ago, and now customers can actually begin ordering the devices.
The 16 GB iPhone 5s costs $550 without a contract while the iPhone 5c retails for just $450. Virgin Mobile is also offering additional capacities, like its parent company Sprint, with the iPhone 5s maxing out at $750 for the 64 GB model. Users can get the entry models at retail locations while the pricier models will be web-only through Virgin Mobile's online store.
The prepaid network began offering the various iPhone models for its network earlier this week on October 1.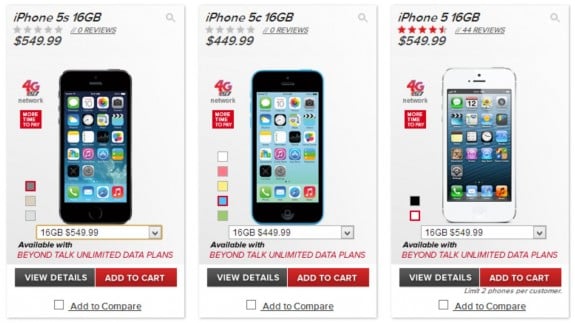 Thus far, the gold iPhone 5s remains to be a popular model, even for Virgin Mobile customers, as it is also being listed as out of stock. The gold model had quickly sold out at launch globally when the iPhone had initially gone on sale.
The prepaid carrier also offers some of the most affordable voice and data plans. Plans start at $35 and include 300 minutes of talk time with unlimited messaging and 3G and 4G LTE data through Sprint's U.S. network. Though all plans have unlimited data, users only get 2.5 GB of data at the faster 4G speeds per month. After that, there won't be any overage charges but you will be throttled to slower data speeds.
Given the quick turn around time from when the newest iPhone 5s and iPhone 5c models have gone from major carriers–like AT&T, T-Mobile, Sprint, and Verizon–to a prepaid carrier like Virgin, this is good news for those who would rather go the prepaid route because they do not like contracts or prefer the cheaper pricing plans on a prepaid carrier. In the past, there was usually a delay of 6 to 12 months from when a coveted flagship smartphone appeared on a major carrier to when it is available for prepaid customers.