Virgin Mobile USA Declaring February 13th National Breakup Day
Just when you thought breaking up with your significant other was hard to do: Virginia Mobile USA is planning on making it, along with ditching that long-term commitment with your cellphone carrier, a little easier during what it's declaring "National Breakup Day."
On February 13th only, one of the nation's largest prepaid carriers will pay $100 of your post-paid carrier's early termination fee when you join their network and purchase a Samsung Galaxy S II and an accompanying No-commitment prepaid service. Depending on your service that could net you an average of $1,000 more in your bank account over two years. The Samsung Galaxy S II 4G is available for $299, but you'll have to act fast. It'll only be at that price thru March 18, and 4G capable plans on the network start at $35 per month.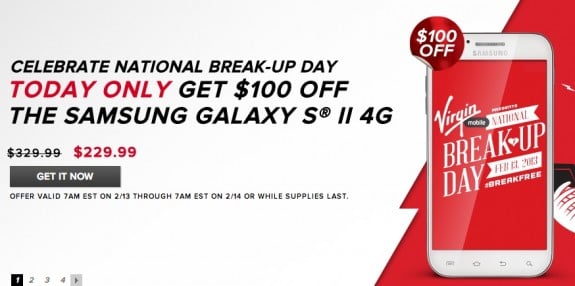 In addition to helping you end that abusive relationship your carrier might have with your wallet, relationship gurus from dating site OkCupid will take to @VirginMLive Twitter account, and offer up tips on how to improve your OkCupid profile to attract someone new. You can watch out for those tips by monitoring the #CupidConfessions hashtag.
So, why declare today National Breakup Day? According to a survey by Virgin Mobile, 59 percent of users plan to break up with someone the day before Valentine's Day to save themselves the expense of schmoozing them during the tail end of a dead relationship with. When asked about the amount of time it takes them to change their Facebook relationship status after a breakup, 84 percent of those same respondents said that they were inclined to do so immediately "so others know that they are back on the market".
The Samsung Galaxy S II made its debut on Virgin Mobile this past November, with a 4.52-inch Super AMOLED Plus display, front and rear cameras, and a dual-core 1.2GHz processor. The carrier's version ships with Android 4.0 "Ice Cream Sandwich", instead of the Android 2.3 "Gingerbread" operating system it's brethren on other carriers debuted with, and is also 4G capable, one of only two devices on Virgin Mobile to have that capability. The other 4G capable device being the HTC EVO V 4G.
We suspect the low price of the Samsung Galaxy S II, might do more in the way of helping Virgin Mobile sell more devices than that free relationship advice from OkCupid though, dumping someone on Valentine's Day is a pretty decent way of ensuring that you'll need a new device after you've been to their place to return their belongings.

As an Amazon Associate I earn from qualifying purchases.