Vista Express Upgrade program begins Thursday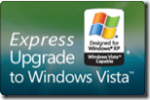 Microsoft has announced their Vista Express Upgrade program, which in some cases, will pay 100 percent of the upgrade cost. It begins Thursday, October 26 and runs through March 15, 2007. I guess computer sales will be pretty much dead from now until Thursday!
In addition, to Vista, Microsoft is creating another program for people who buy computers during the holiday season pre-loaded with Office 2003 and want to upgrade to Office 2007.
What is important to know about the Express Upgrade program is that participation across PC Manufacturers and distributors differs. Not all PC manufacturers are participating. It is best to communicate with your VAR, OEM, or system builder to determine if they are participating in the program and if the computer your are buying qualifies and at what level.
You can check out Microsoft's Express Upgrade site here.
Here are some more details from SeattlePI.com:
Microsoft said Tuesday it will help holiday-season computer buyers upgrade to its forthcoming Windows Vista operating system, in some cases paying 100 percent of the upgrade cost.
The upgrade-assist program, which begins Thursday, is meant to bolster PC sales during the critical holiday period despite the discouraging absence of the long-delayed Vista.
Windows director Kevin Kutz said major computer makers such as Dell, Gateway and Sony are free to set the discounts themselves, while Microsoft will manage the discount program for the smaller computer makers known as system builders.
Until early spring, Vista — five years in the making — was due for release by the holidays. But on March 21, Microsoft delayed it for further testing, much to the disappointment of computer makers and retailers.
Among U.S.-based system builders, four upgrades will be free, except for shipping and handling. They are:
Windows XP Professional to Windows Vista Business.
Windows XP Media Center Edition 2005 to Windows Vista Home Premium.
Windows Tablet PC Edition to Windows Vista Business.
Windows XP Professional x64 Edition to Windows Vista Business 64.

As an Amazon Associate I earn from qualifying purchases.