Vista power profiles – Great for the Tablet PC
Today I was getting ready for a meeting and was wanting to get the most out of my battery because it was going to be a long meeting. I was a little disappointed at the default settings in Vista RC1 – for one the screen was too bright. I decided to look around and see what I could find – and guess what I found, power profiles you can customize. And when I say customize, I mean customize. Here's how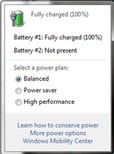 First get to the power options – easy way is to right click on the power icon in the task bar and click power options.
After you get to the power options, you will see the three options for setting your power/performance. The three default settings are: Balanced, Power Saver and High Performance.
This is where the fun begins. Hidden in the middle of the left column is something called "Create a Power Plan". This will allow you to set one of the existing power plans as the base of your custom plan you are about to create. I picked the base plan of "Power Saver" because I wanted to create a plan for achieving the max battery life. At the bottom of the screen it also allows you to name the new plan you are creating, I picked the name of Max Battery.
The next screen is the initial setup of the screen brightness, sleep time and when to turn off the screen. Since I am only worried about when the computer is on battery, I didn't worry about what the settings are for while plugged in to the power supply.
Now after you create the initial settings for your plan, you can really tweak the settings now!! You will click the 'change power settings' and you will be presented with the brightness, sleep and screen page again, but now it gives you another option 'change advanced power settings'. This is where you can really start tweaking! I will hit the high points on all of them for those of you that can't experience them first hand. (I only have Vista running on my M4, so I don't know if all the options are showing, or if all of these will be available on all machines)
Additional Settings – password on wakeup settings

Hard disk – time until hard disk turns off

Wireless Adapter Settings – power mode of wireless device

Sleep settings – sleep time, hybrid sleep and hibernate settings

Power buttons and lids – lid close action, power button actions and start menu power buttons

PCI Express – link state power management

Processor power management – minimum and maximum processor states

Search and Indexing – power saving modes

Display – turn off display time, adaptive display and display brightness

Multimedia Settings – power modes

Battery – critical battery action, low battery level, critic battery level, battery state notifications and low battery action.
Not bad for settings built into the OS…
Let us know if your Tablet PC has any additional settings!

As an Amazon Associate I earn from qualifying purchases.