So far, so good. Out of all the Vista beta's I've used so far, this one is absolutely the most stable and has taken care of most driver issues out of the box. The Vista RC1 installed the WDDM drivers for Aero Glass to run on the M400 that I'm testing this on. After installing the button drivers from Toshiba.com, all the buttons, except rotate, work. If you install it on a Gateway M280 Tablet PC, it'll also take care of the FinePoint drivers, which did not use to be there before build 5536
Here is a screen shot of the Windows Experience Index. I'm not sure why the hard drive is showing a 2.8 as I'm using a 100gb 7200 rpm SATA drive. Interesting. Otherwise, the scores look really, really good. The Toshiba M400 is 2ghz, 2gb of RAM, Intel 945 GM Graphics Chipset.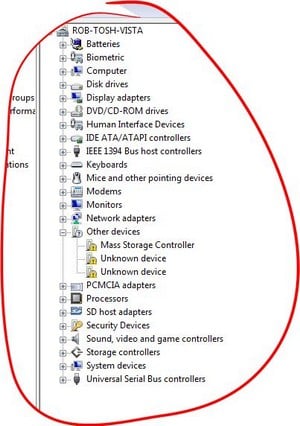 I'm writing this post using BlogJet, on Vista, been using Office 2007 on it, and it is running smooth as silk. I installed QuickBooks 2006 and got messages about incompatability. It then wanted to install .net 1.1, which I did not go forward with. I've also installed Dreamweaver 8 and Flash 8 with absolutely no issues – they run perfectly fine. I'll be trying out syncing to Outlook 2007 later today.
Here is a screen shot of the Device Manager tab. I know BlueTooth isn't working yet, but I have not made the time to figure out the other ones.
If you have any questions, shoot them along. BTW: If you want to know more about Vista and the Tablet PC, be sure to take a look at our Vista InkShows. We have a lot more planned, so stay tuned.

As an Amazon Associate I earn from qualifying purchases.