Vista RTM: Still Bleeding Edge?
Well, if you're in the same boat as Dennis Rice and have discovered that Vista RTM mysteriously disappeared from MSDN, then you might or might not be one of the lucky ones. I managed to grab a download of Vista RTM (it only took 22 hours) but until late last night had not successfully managed to grab a key. (There is a 30 day period before you need to enter the key to activate, otherwise you loose functionality.) The download process was quite bleeding edge, and like others, I'm a bit stumped that Microsoft wasn't prepared to deal with the onslaught especially when they decided to make the RTM release available to Beta testers via Microsoft Connect in return for their assistance.
What was also interesting to note was how the MSDN interface kept changing throughout the many attempts to restart the process. First the 64 bit version disappeared and then the 32 bit version disappeared. Hmmmm? Fortunately I managed to grab the whole thing before that happened, although I the final .5 megs took over 2.5 hours to download. Speculation here, but it was almost as if they were building the page and the page and the process while they were being swamped with traffic.
All that said, I managed to get the download completed and get Vista RTM installed on the Toshiba M200. Some early notes:
The install process on this older machine (a clean install) certainly doesn't meet the 15 minute target but did we ever really expect it to?)
I still find it amazing and a bit stupefying that there is no generic wireless driver meaning that I had to grab the first Windows update over LAN.
On the Toshiba M200, the Nvidia card is not recognized by any drivers from Microsoft or anything currently on the Nvidia site. The result in order to run at high res (1400 x 1050) you need to drop the color depth to 16 bit while your system runs on a generic VGA driver. Remember Toshiba M200 owners, you are now hanging on to legacy hardware.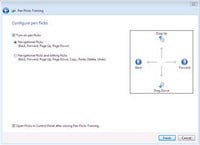 I had heard and wasn't expecting Aero Glass to run with RTM on the Toshiba M200 and my expectations were met. Intriguing that RC1 allowed this to occur with a WDDM driver that came through Windows Update and used shared memory but not with RTM.
Now that all the debugging code is gone, (and of course many of the Tablet specific Toshiba drivers are not present) Vista loads up very quickly and shuts down even more so.
Sleep is grayed out and not available.
Not much time for testing so far, but all the Tablet bits seem to be working fine.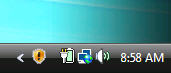 I really miss the animation in the task tray that lets me know that I have activity on WiFi. Tough to tell if anything is happening when you are uploading or downloading.
The IE7 icon is no longer an option to be placed on the desktop when you choose to customize your desktop.
I'm guessing we will see drivers beginning to be released very soon as the November 30 date for Vista Release to businesses is approaching. I'm also guessing that Windows Update is going to be very, very busy pulling down drivers between November 30 and even more so once consumer release nears. I'd drive with caution if your machine had driver issues throughout the Release Candidate dance.

As an Amazon Associate I earn from qualifying purchases.