Vista Upgrade Path for Tablet PC owners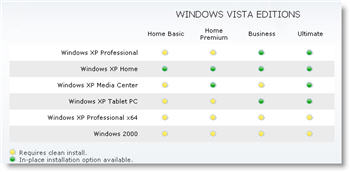 Depending on what OS you have right now and which Vista version you want to go to, the upgrade path is a little different: clean vs upgrade. The bad news for Tablet PC owners who want to go to Home Premium is that they will be faced with a clean install vs an upgrade. This is due to a loss of functionality between Windows XP Pro Tablet Edition and Windows Vista Premium. I believe the loss of functionality revolves around networking: joining a domain, etc.
Current Tablet PC owners who want to go to Business or Ultimate will be able to upgrade
Here is the upgrade path info that Microsoft has released :
You can upgrade from your current edition of Microsoft Windows XP or Windows 2000 to a corresponding or better edition of Windows Vista by purchasing and installing an upgrade copy of Windows Vista. Depending on which edition of Windows you are running and the edition of Windows Vista you would like to install, you have two options for the installation process:
In-place upgrade
You can upgrade in-place, which means you can install Windows Vista and retain your applications, files, and settings as they were in your previous edition of Windows.
Clean install
Upgrading to Windows Vista with a clean install means that you should back up your files and settings, and then install Windows Vista. After the installation is complete, you'll need to reinstall all of your applications and load your backed up files onto your PC.
Via MSDN Blogs

As an Amazon Associate I earn from qualifying purchases.