VistaStartMenu and Your Visual Memory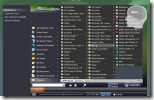 If you're someone who uses the native Vista Start menu and find that it can drive you a bit nuts, you might want to take a look at this. VistaStartMenu is an add-on that arranges things in a little different way. It relies on your visual memory allowing applications that are installed to basically remain in place, instead of shifting around as you install or remove applications.  You can resize the menu window to your liking and also use keyboard shortcuts for the various power options. There is also quick and easy access to the command line. There's a free and a pro version available and this doesn't monkey with your settings so it is not difficult to give it a try. The site contains a variety of demos if you're interested in checking it out.
Via RedFerretJournal

As an Amazon Associate I earn from qualifying purchases.