Vocal Google Supporter Predicts the Doom of Google Glass
As Google is now beginning to expand the availability of its early Glass Explorer program beyond developers and into prosumers, vocal supporter of the wearable gadget Robert Scoble is now predicting that the product will ultimately fail in 2014 when it launches to consumers.
Scoble made waves early on with Glass when the wearable computing glasses launched as he tweeted and posted images taken through Glass as well as a selfie of him in the shower wearing Glass–a testament to him never wanting to take it off. However, despite his early and enduring enthusiasm for the product, Scoble ultimately says that the $1500 asking price for Glass is too high.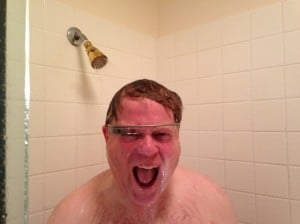 "Google Glass is doomed," the tech pundit editorialized on his Google+ page.
"Price is gonna matter a LOT," Scoble mused. "But I'm hearing they won't be able to get under $500 in 2014, so that means it's doomed. In 2014. When they get under $300 and have another revision or two? That's when the market really will show up. 2016, I say."
In order for Glass to work well, a user would also need a smartphone that's connected to glass. Currently, that means that users will have to pay for a phone–whatever price that may be–as well as the $1500 price tag for Glass. This is one of the reasons why Samsung's Galaxy Gear–a wearable wristwatch that connects to select Samsung Galaxy phones and tablets–has not taken off as well.
Another potential thorn to Glass' success would be privacy.
In the past, privacy concerns with Glass usually consisted of casual observers fearing that Glass wearers would be secretly taking their pictures or recording their videos. However, there is also a privacy concern for the user and wearer of Glass as well according to Business Insider.
"That thing can probably tell whether you are drunk or sober (think about THAT tonight)," said Scoble. By being able to detect your eyes and how your eyes move, Glass could potentially detect that you're checking out someone you shouldn't be, which could cause problems if your significant other found out. It could also be used to detect what you're looking at, allowing Google to be a marketer's dream as it could track what brands captivate Glass wearers when they are shopping.
Though Glass is a great idea, Scoble says that there is much work to be done with the wearable computing eyeglasses. The UI needs revamping and Glass needs more selections of apps. Scoble thinks Glass should be more intelligent and more contextually aware as well. For example, if you're at a concert, perhaps Glass should only show you tweets and updates related to the event or venue unless you ask for a broader search.
As a whole, the new product category is spurring excitement, and this in turn is also creating high expectations.