Voice Control May Morph into a Virtual Assistant on iPhone 5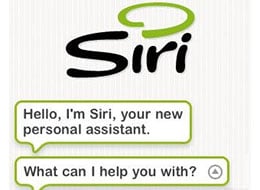 There is really nothing new when it comes to next version iPhone speculation. In fact, it almost seems like we may have reached a tipping point, where there might actually be a back lash of some sort. But on it goes.
Ever since Apple acquired Siri and rumors began swirling about Apple and Nuance, makers of Dragon Naturally Speaking, making real nice, there has been speculation that the next version of the iPhone and iOS will contain an improved voice command set of features.
9to5Mac is talking all about this in a post that certainly must be given some folks at Cupertino a few fits. According to that post, the new voice command features will be called Assistant. (Siri was called your personal assistant) and will take advantage of the rumored A5 chip and increased memory that speculation has that the new iPhone will be running. From reading the 9to5 post, if everything is true, it seems like Assistant is tightly integrated within the OS. It also seems like you'll need the latest generation of hardware (iPhone 5) to take advantage of it. Apparently the Assistant will even talk back to you when you are issuing commands.
At the risk of being redundant, I've said for quite some time that Voice Control on a smartphone is the last big and important technological leap that we've really yet to see come into play. Sure, Android does better than Apple does currently with this, but I don't hear that much about people using it all the time, and the folk I know who use Android phones think of it as a gimmick more than an everyday feature.
To be honest, I don't hold out any great hope that Apple's next stab at this will be that much of a game changer either, but at least both Apple and Google are trying on this front, which to me just makes sense. While we are apparently using our phones less and less as phones to make voice calls (according to a bunch of surveys), it seems both natural and ironic that we might be getting closer to manipulating devices we use for data with voice commands.