Volvo to Support Spotify via Volvo's Sensus Connected Touch technology
On the heels of the AppLink Ford vehicle integration announcement from Spotify, Spotify also announced support for Volvo vehicles with the Sensus Connected Touch technology.
Sensus Connected Touch is a system fully integrated into Volvo vehicles, providing navigation, infotainment and other features. Similar to MyFord touch and Cadillac's CUE system, the system can be used to connect to the Internet for additional functionality. Through the use of a USB cellular dongle plugged into the vehicle, or through a paired via Bluetooth cell phone, the system has the ability to browse its own app store, along with other functions.
This means that people who use the Volvo system do not necessarily have to have a smart phone in order to access Spotify. Further separating them from the MyFord touch system, Sensus Connected Touch is the high-end infotainment system option in Volvos and supports Spotify. AppLink is NOT currently available for MyFord touch, so people looking at Ford vehicles that want Spotify integration will have to spec lesser-trimmed vehicles.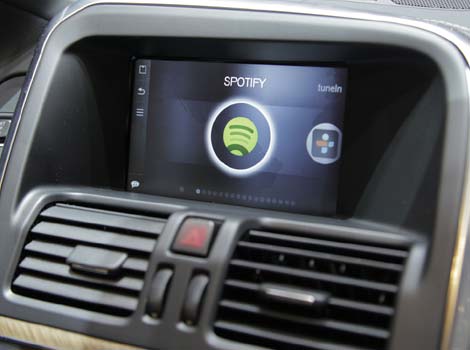 One of the most interesting points of this announcement is the use of a dedicated app store for Volvo vehicles. From a convenience perspective, users may like having a system in their vehicle that is independent of the cell phone, but a dedicated app store from a smaller car manufacturer may not grow as well as app stores available on the mobile phones. Volvo has yet to announce an API or developer platform for the Sensus system, making it is presently unclear how to get an app integrated into a Volvo vehicle. Ford is the only manufacturer with an open API development system for in-car apps, and only recently has it seen growth in the development arena. Time will tell if the Ford method or the Volvo method ends up being the "right" method.
The system will go on sale in May of 2013 and should be available on all Volvo vehicles.