Voombox Party Rugged Bluetooth Speaker Review
Bluetooth speakers are extremely popular and sold by just about everyone these days, so finding a good overall package that isn't too expensive yet still delivers great sound is more difficult than it should be. The Voombox Party 2.1 subwoofer speaker happens to be one of the few that hits all of the important areas users look for when buying a speaker, and below we'll explain why we'd recommend the DiVoom Voombox Party Bluetooth speaker.
The Voombox Party is affordable, being under $100, yet puts out excellent sound. It has incredibly deep bass, and it's a little on the heavy side but that's because it can live up to the name of being a "portable" speaker users will actually take everywhere. Those are some of the things I look for in a speaker, and this one delivers.
Read: Best Bluetooth Speakers for iPhone in 2015
Bluetooth speakers are a dime a dozen, and there are tons of excellent choices from Jambox, Logitech's Ultimate Ears series, the Beats Pill (if you can call that a good choice) and tons of other popular brands like Bose, Sony, Samsung and more. The best part about the Voombox is it delivers sound similar to those big name brands, but does it at a lower price point. Read on for more details.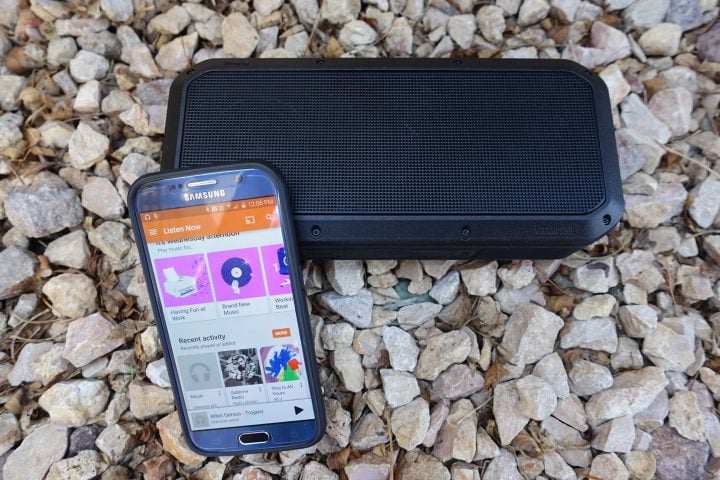 I've been enjoying the Voombox Party for about a month now, and I've had the pleasure of actually using it as a portable speaker in order to truly test the portable, party, and rugged aspects of the name. It got wet at the pool, rained on for over an hour at my family cabin in Utah, and tossed around the back of my truck on the 4th of July yet continues to thump out great sounding music.
It did everything mentioned above all while being extremely simple to use. The Voombox has three ways to connect devices. Bluetooth, a 3.5mm auxiliary cord hiding behind an IPX44-rating water resistant rubber flap and seal, and then there's an easy pairing NFC button on the side. DiVoom promises 8 hours of music playback from the integrated 4,200 mAh battery, and I've found that to be accurate, if not on the low side. Mine lasted the entire weekend at the cabin, where I'm guessing we streamed music for at least 10 hours. Oh, and it doubles as a speakerphone for making phone calls too, which is a great feature that many don't think about when buying a Bluetooth speaker. That IPX44 rating means it is water resistant, but it isn't fully waterproof so don't try submerging this speaker under water.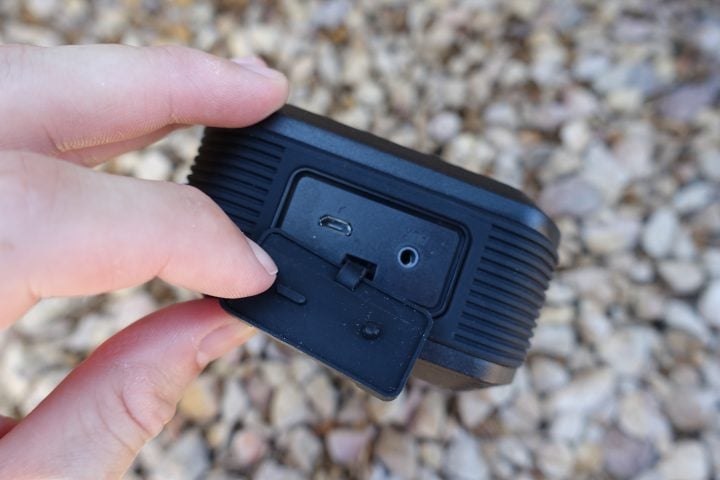 I didn't have to pair it over Bluetooth and type in any four digit codes, instead I hit the NFC button on the side and tapped my Galaxy S6 next to it, and it instantly paired, took over, and started playing some music from one of my favorite bands, Tool, in a matter of seconds. It's so easy that anyone can do it. However you can use it as a wired speaker, or connect via the usual Bluetooth method as well.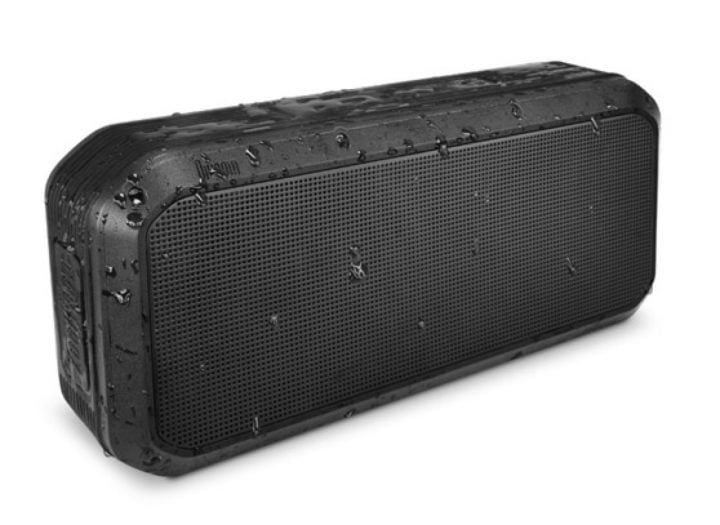 Once connected users can enjoy some rather exceptional sound output from this small device. It isn't the most portable speaker I've ever had, coming in at 9-inches long, 4-inches tall and just 2.1-inches wide, and it's actually rather heavy being 2.4 lbs. There are only two ports on this speaker. Behind the rubber water-sealing door is a micro-USB port for charging, and the 3.5mm headphone auxiliary port.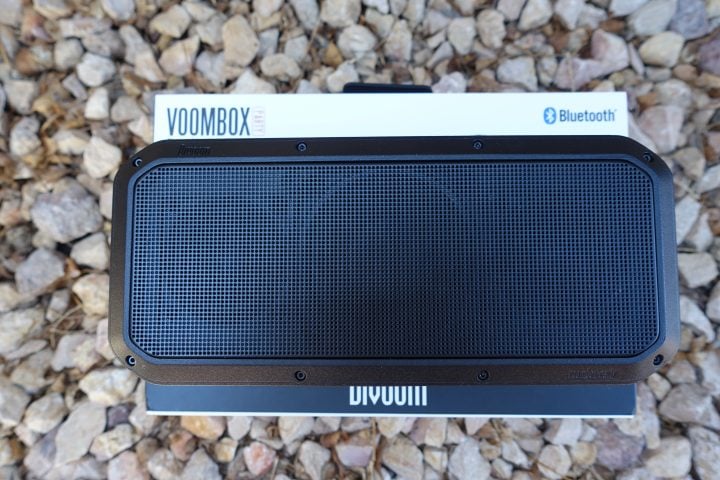 Many options are smaller and lighter, but they won't have nearly the amount of bass as the Voombox. In fact, bass response is almost always a problem on portable speakers, as they simply don't have enough and have that "tin can" sound when users try to enjoy music.
However, I'd go as far as to say the Voombox party might have a problem that's opposite of most. The advanced 2.1 subwoofer speaker system actually puts out too much bass, and drowns out the mids and highs on occasion. One side has a passive radiator for airflow to help out with bass coming from the 3-inch subwoofer and 2-inch full range speaker. This helps the bass be extremely filling, enough to fill out an entire room, but can be overbearing at times. I've been able to tweak it a little bit using a 3rd party music player with an equalizer, not to mention all users have different sound preferences. If you want bass, this is one worth considering.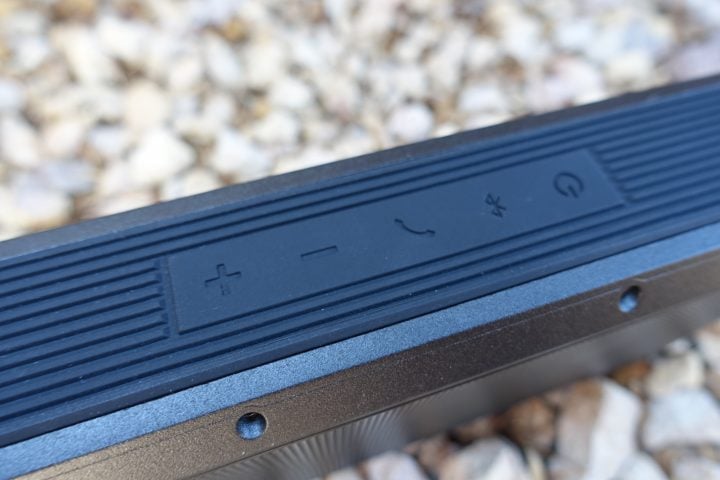 As far as build quality this is as good as it gets. The Voombox is made from a shock-absorbing rubber material all around, including the power, Bluetooth, volume, and phone buttons on the top, and is then wrapped in a lightweight sturdy metal frame. I accidentally dropped it from 6-ft high off the roof of my truck, and it was perfectly fine. You'll see one small scratch in my photo below from the fall, which is more than acceptable and saved me from having to buy another speaker.
All said and done the Voombox party has a premium look and feel, it's extremely durable and water resistant, has great battery life that allows it to push out loud, clear and crisp sound, tons of bass, and costs just $99 from most retailers.
It may not be the best Bluetooth speaker around, but for the price it has plenty to offer and will deliver much better sound than your typical smartphone, tablet, laptop, or many other speakers in the $100-$200 range. I keep mine in my truck these days, behind my seat, ready to be used while hiking, camping, or other outdoor activities.

As an Amazon Associate I earn from qualifying purchases.