Vuzix M100 Smart Glasses Now Ready For Developers
Vuzix is now ready to open its M100 Smart Glasses to developers interested in making apps for this Google Glasses competitor.
The new Vuzix M100 Smart Glasses put a small display in front of the user's eye, giving them access to information from their smartphone without having to actually look at the phone's display. The small device runs Android and lets users view their text messages, email or app information easily.
The Vuzix M100 Smart Glasses come equipped with head tracking software and GPS to help give users a "hands free" display. Through its sensors the device can help users navigate content, or users can swipe through content on their smartphone.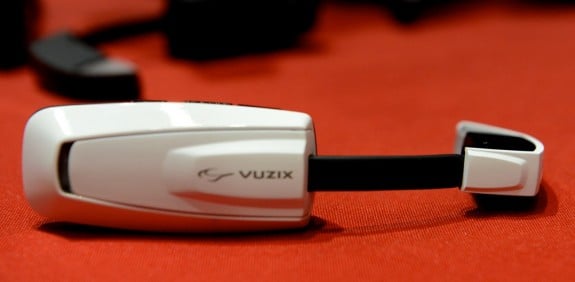 Like Google Glasses the Vuzix M100 Smart Glasses also have a camera for taking photos and video of the user's view. Developers can also use the camera for augmented reality apps. For example developers can create apps with functionality similar to Nokia City Lens, or they can create new games that use the real world as part of the game world.
The M100 Smart Glasses SDK is now available to developers in two editions: gold and silver. Vuzix promises that both development kits will evolve over time to incorporate new features of the M100 Smart Glasses as they're developed.
Unfortunately for developers, the SDK only runs in the Android emulator on a PC so they won't get early access to the M100 Smart Glasses hardware to test their new apps. Without access to the hardware it's hard to say how successful any will be when it does ship.
Google currently holds a lot of mind share surrounding wearable technology, specifically when it comes to smart glasses. But the Vuzix M100 Smart Glasses could be a less expensive competitor to Google's project. Last year at Google IO Google sold the first Google Glasses to developers for $1,500, and it's hard to imagine the Vuzix M100 Smart Glasses costing that much.

As an Amazon Associate I earn from qualifying purchases.