Wacky Weekend Gadget Roundup
It has been awhile since our last edition of the Wacky Weekend Gadget Roundup, so here's another round. As usual we cover the cool, the weird, the wacky, the bizarre, and the ""who thought that up" gadgets that we uncover in our daily viewing of the web. Of course with Halloween approaching we've got a few that speak (or shreak) in a spooky vein, and some of the treats even have a few tricks up their sleeve. Hope you enjoy the silliness that follows.
How's this for greeting all those trick or treaters? the Robotic Snap-O-Lantern is a do-it-yourselfer's delight. You can check out a video of this in action at SlashGear.
We try to get rid of as much paper as we can here at GBM, but you how that goes, and of course if you have paper, you have paperclips. Well, here's a Paperclip lamp (actually two, a floor model and a desk model) from Gael Horsfall.
If you're a Swiss Army Knife fan, then this giant version, which contains every tool (a total of 85) they've ever crammed into a package might be for you. Weighing in at just about 3lbs, it will cost you $1000. It is being sold to commemorate 100 Years of Innovation by Wenger, the maker of the Swiss Army Knife. ThinkGeek via BoingBoing Gadgets.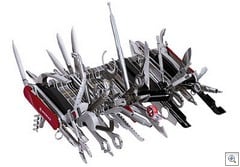 Cat lovers are everywhere, and I guess if you're a cat loving photobug you might like this cat head camera. Via Crave.
For those who like to scare the staples out of a piece of paper instead of just pulling them out, you might want to try this Dinosaur Head staple puller. They also have other carnivore models as well, including a gorilla, a lion, an alligator, and a shark. From Jac Zagoory Designs via Gizmodo.
I know some folks listen to music so loud that their heads might fall off. Maybe their pets as well. Here's an interesting speaker set, featuring headless dogs. Gives a new meaning to the term ""woofer." Via The J-Walk Blog.
If gravity has got you down, you might want to take a look at the Levitron Anti-Gravity Globe. The Live Science Store via BoingBong Gadgets.
And last but not least, this decapitated bear USB stick will surely frighten you kids on Halloween as you transfer some files. Or any time for that matter. Via Bock's Car.

This article may contain affiliate links. Click here for more details.