Wacom Introduces Wacom Bamboo Mini Stylus
Wacom has launched a new pointing device called the Wacom Bamboo Mini Stylus. It plugs into a smart phone or tablet head phone jack to keep it always at hand.
Wacom can't fix the biggest problem with capacitive touch styli: the size needed to properly ink on a touch. But they hope to fix the second, losing the stylus altogether. That's where the Bamboo Mini Stylus comes in. The stylus comes with a thicker barrel to help users get hold of it as they write or draw. The tiny plastic insert that hangs from the end fits into the stereo jack and keeps it secured.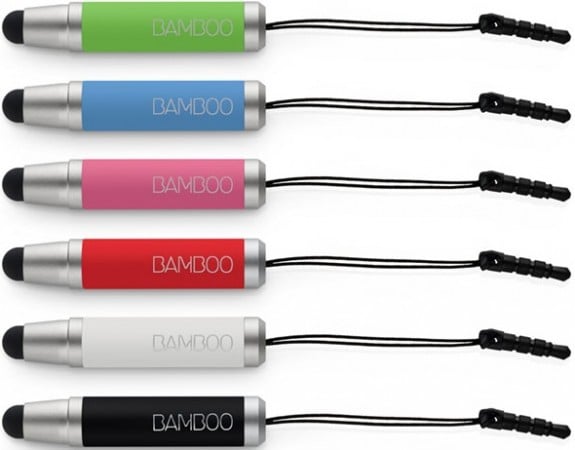 The Wacom Bamboo Mini Stylus comes in one of six colors – black, white, red, green, blue and pink. At present most of them show an "out of stock" status at the Wacom store, where they sell for just $19.00 (click link and scroll to bottom).
Small stylus designs with a plastic stereo port insert before are not uncommon. Many low-budget cases from Amazon or other mobile accessory makers come with these. They usually use the typical larger nub that feels more like writing with a huge magic marker. However, Bamboo makes a better quality stylus. The nub is smaller and offers more precision than the typical low-budget stylus. As our own Warner Crocker said in his review, the Bamboo Stylus "has the best feel…" of the styli he's tested because it "feels more natural in the hand." Bamboo hopes to leverage their good reputation for styli and pointing devices in general.
However, we predict that this style of stylus won't work as well for taking a large volume of notes because it only measures 1.85-inches long. Warner specifically mentioned the longer length of the other Bamboo products as a selling point. These shorter sticks feel less comfortable while inking for a long time.
However, they might still appeal to people who long for the days of Palm or Pocket PC organizers and are used to tapping around the screen with a pointing device instead of a finger.

As an Amazon Associate I earn from qualifying purchases.