Wacom PL-900 For Your Next Presentation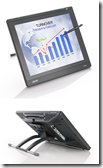 This Wacom screen looks to be geared more to the educational or large corporation video departments, but still looks like a nice tool to use while giving a presentation.  The Wacom PL-900 has a 19" screen, with a 1280 x 1024 resolution, that will allow the use of the digital pen to annotate and write directly on the screen.  Check out the video I/O information:
The PL-900 provides advanced video capabilities with the inclusion of DVI-I input and DVI-I output. This means that either an analogue or digital video source can be used. It now also supports analogue or digital output to projectors and displays, so there is no need for an additional DVI-splitter. This plug-and-play feature makes it even simpler to use.
Sure seems like a great alternative to using a Tablet PC for an interactive presentation.  There is no mention of the US prices (UK £1,249.99), but I'm sure we'll hear more soon!