Wacom Releases New Intuos4 Tablets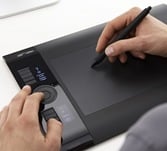 Wacom has released (on its European site) its next series of Intuos4 graphics Tablets. As is typical they come in a range of sizes (Wacom calls them S, M, L, XL) and of course price ranges. In addition to pen input, the Intuos4 line have eight customizable keys (ExpressKeys) that include OLED displays that show the current function setting. These are available on the M,L,XL models. There are also on screen radial menus for fast access to shortcuts with just a pen stroke, as well as a Touch Ring that allows fingertip control for scrolling, brush adjustments and zooming.
Prices range $300 to $1080.
Follow the jump for a promotional video.
Via SlashGear