Wacom Unveils Bamboo Pad Trackpad for Writing and Drawing
Wacom has announced the Bamboo Pad. It's the company's latest Bamboo product that looks to take on the desktop trackpad market by releasing a device meant for drawing and writing digitally on smaller surfaces. The Bamboo Pad has functions similar to that of the Magic Trackpad, with a full touch-sensitive surface and gesture support, but there are added features specifically for drawing.
The Pad comes with a stylus, so you can use either your fingers to navigate around the desktop, or the stylus for when you're in the drawing mood or need to take down some quick notes. The device can detect whether or not you're using your finger or the stylus, so it automatically optimizes itself for specific uses.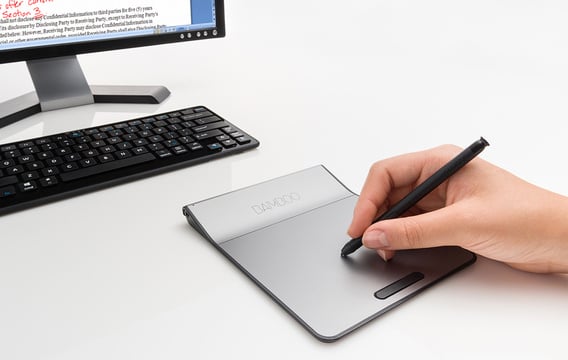 The stylus also has 512 levels of pressure sensitivity, which may seem like a lot, but it's nothing compared to Wacom's pressure sensitivity in more high-end Bamboo products, where there can be thousands of different levels of pressure sensitivity. Nonetheless, those looking to get the Bamboo Pad should be plenty happy with the offerings of the included stylus.
The Bamboo Pad is compatible with both Mac and Windows, although you'll have to install a driver if you're on Mac, while Windows 7 and Windows 8 will be able to recognize the Pad right out of the box without a problem. As far as price and availability, The Bamboo Pad will begin rolling out later this month, with the wireless model costing $80, and the wired USB version priced at just $50. Both will include a stylus. You'll also get your pick out of four different colors: grey, blue, green and purple, with purple only coming in a wireless $80 flavor.
Wacom looks to take on Apple, Logitech and other desktop trackpad makers with the Bamboo Pad. However, Wacom seems to be marketing its product to a slightly different crowd. As with many of its products, Wacom likes to target the graphic designers and digital artists of the world, and the company's products are usually a must-have for designers. However, we wouldn't be surprised if Wacom wanted to dabble in the general consumer market with the Bamboo Pad and was attempting to woo over Magic Trackpad users.