Wacom's Bamboo Paper for iPad is OK Inking App but Lacks Features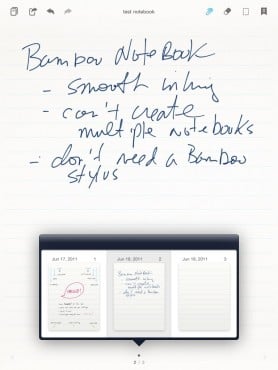 Inking Apps for the iPad are obviously of interest to me and a number of readers here on GBM. I've reviewed and talked about quite a few. When I saw that Wacom had released Bamboo Paper I had to take a look and so I did.
As far as the Inking experience is concerned its very good. I compare it very favorably to Penultimate, the Inking App that is my go to App when I need to take some notes in Digital Ink. There's no mention of wrist protection or palm rejection but I was able to rest my hand on the screen and Ink comfortably without leaving stray marks. The App has some customization available including a limited selection of your standard different types of paper, you can change Ink colors. You can pinch and zoom to areas of the screen for writing and doodling or use two fingers to pan the page. Neither is as smooth as it needs to be given that if you don't touch the screen just right your finger(s) will create ink on your page. The biggest glaring omission is that you can't create multiple notebooks in this first version. I don't know if that will ever become an option but at the moment your stuck with one notebook, which you can rename, or change the color of the cover. But there is an area on the first page of the note book called library which indicates that we may see multiple notebooks possible in the future.
You're also limited in how you can export your notebooks. You can email the notebook as a PDF, email a page as a PDF, or save a page to your Photo library. You can also use the AirPrint feature of iOS if you're set up to do that. Other Inking programs have more options like using Dropbox or at least working with the laborious transfer document process via iTunes.
But, as you'll from the product page, I think this free App is geared towards giving those who purchase a Bamboo Stylus for the iPad something to play with once they get their hands on a Bamboo Stylus. There's even a hook in the program to show you how to order one. You don't need a Bamboo Stylus to use Bamboo paper. I tried several different styli out on Bamboo Paper all with equally good Inking results.
Here's hoping Wacom will actually do more with Bamboo Paper in the future as the Inking experience is pretty good.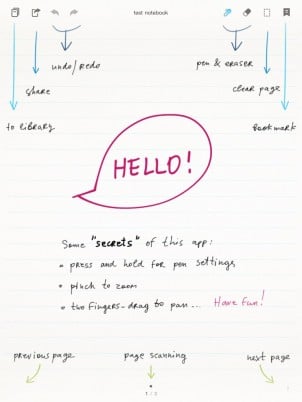 As an Amazon Associate I earn from qualifying purchases.