If you're in the market for a Tablet, versus a Tablet PC, or perhaps in addition to one, you might want to check out Wacom's Bamboo Tablets. The small design comes in three models and price ranges, according to Engadget. The $79 model is targeted at the casual photo retoucher, the $99 model is a little bigger, and of course the $199 model is a touch larger and a few more features.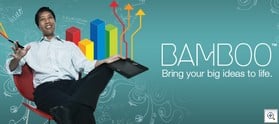 I think Wacom should send us a few to do some InkShows about, don't you? Check out more on the Wacom site, where I see the lowest price is listed at $69.

This article may contain affiliate links. Click here for more details.