Walmart Adds Unlimited Data To Their Family Mobile Plan
Today Walmart announced that the retailer's Family Mobile plan will now include unlimited data instead of limiting web to a paltry 250MB per month. The pricing on the plan remains the same ($45/mo for 1 person, $35/mo for each extra phone).
This move is meant to encourage more of Walmart's shoppers to consider a smartphone. According to the company's data 44% first-time buyers cited data plan cost as a big hindrance to buying one. This is one of the reasons that pre-paid carriers are popular among lower income consumers. Many offer unlimited data along with everything else.
Walmart's plan has the advantages of pre-paid carriers, including no contact, but is actually a post-paid plan on T-Mobile's network. You get the advantages of a large, national carrier without the hassle of pre-paid and the bind of a two-year contract.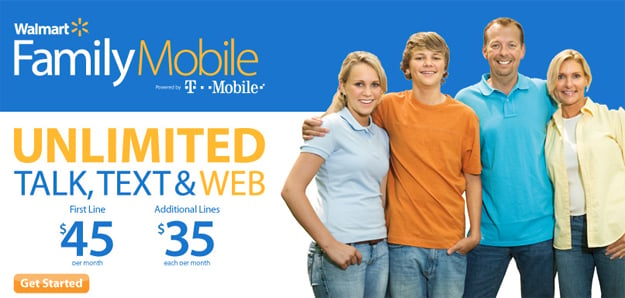 There is a fly in the ointment. Because this is essentially T-Mobile, Walmart Family Mobile customers will get throttled just like everyone else. According to T-Mobile's PR users will get 3G speeds on their data until they hit 5GB, then they'll be slowed down to 2G until March 16th. After that users will get yanked back down to 2G after only 250MB of data.
This may not end up being a problem for customers who only use apps that sip data and stay away from streaming a lot of music and video. You can also save on data by connecting to Wi-Fi when you can. Still, it's annoying to think you have unlimited data only to have that data crawl to your phone.
I'd be interested to see how well this does, especially if Walmart begins offering more low-cost smartphones in the near future. Though the service isn't the fastest and the throttling is a pain, making smartphones more accessible to everyone is a good step forward in bridging the digital divide.

As an Amazon Associate I earn from qualifying purchases.