Wal-Mart Brings new Xbox One Deal for the Holidays 
Those looking to save on Microsoft's latest entertainment console have another Xbox One deal to take advantage of. Wal-Mart, the world's largest retailer, has an Xbox One deal that includes the latest hardware bundle, a wired controller and a headset.
The Xbox One Deal in question is available on Wal-Mart's website now for $399. The Xbox One launched in 2013 as a direct competitor to Sony's PS4 gaming console. That original launch bundle cost shoppers $499. Wal-Mart's Xbox One deal is a perfectly good example of how consumer electronics adjust in price as they mature.
The bundle in this sale is the Xbox One 1TB FIFA 16 Limited Edition Console Bundle. Normally, it'd cost $399 on its own. The console comes with an Xbox One Wireless Controller of its own that has a headphone jack. Buyers also get a digital copy of Electronic Art's FIFA 16 soccer game. There's a year-long subscription to EA Access, a digital games subscription service that's only available on Xbox One. That service gets users game downloads from the EA Access Vault at no additional charge.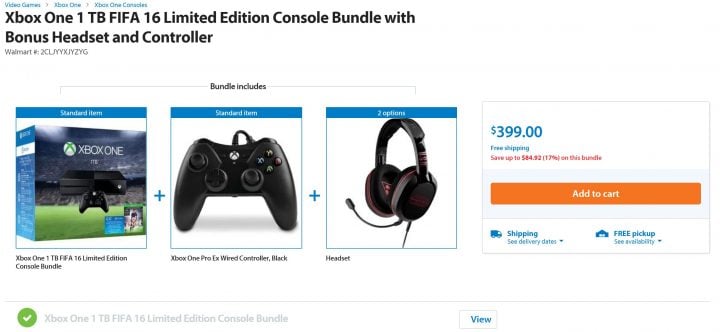 All of that would be in regular bundle, where the real savings comes in with this Xbox One deal are the extras. There's an Xbox One Pro EX Wired Controller so that users can play with their friends or a family member without having to make an extra purchase. The retailer normally sells this controller for $34.77, but it's free here. Buyers also get either a Turtle Beach Star Wars Stereo Gaming Headset or the same headset with Disney markings instead of Star Wars. This headset sells at Wal-Mart separately for $49.99.
In total, shoppers are saving $84.92 according to Wal-Mart. Of course, that's before any sales tax and before users purchase a subscription to Xbox Live so that they can play online with other players. Microsoft doesn't include free trials of the service with games and console bundle, but they're usually limited to two-days.
Anyone who takes advantage of this Xbox One deal does get free shipping, according to Wal-Mart. Those who'd prefer not to have holiday surprises for their family ruined could also have the bundle shipped to their local Wal-Mart Store at no charge.
Some buyers might want to factor in the cost of purchasing a Kinect for motion gaming, video chat, audio messaging and live TV integration. Microsoft has those on sale for $99 this holiday season. Buying the accessory is not essential to games that rely on a physical controller though. Mostly, it's used for giving the console voice commands in apps. Microsoft announced last week that it was slashing the cost of the Xbox One + Kinect Bundle to $399 this holiday season. It comes with the Kinect sensor, a 500GB console and three games.
Read: Holiday 2015 Xbox One Deal Saves Families a Fortune
For months, we've predicted that steep holiday sales would make upgrading to an Xbox One or PS4 from the Xbox 360 and PS3 cheaper. Clearly that prediction is coming true. Buying into the Xbox One ecosystem has never been cheaper than it is right now. Low prices and promotions are great for Microsoft, which is hoping to sell more Xbox Ones than during any previous holiday shopping season.
Halo 5: Guardians launched on the console last week, with Rise of the Tomb Raider coming on November 10th. Next week the company plans to release a new software update that makes the Xbox One friendlier for new buyers and includes support for some Xbox 360 games.  The hope is that making these changes will entice Xbox 360 users to upgrade in droves.