Walmart Black Friday 2013 Details: PS4, Xbox One, More HDTVs and Wristbands
More Walmart Black Friday 2013 details arrive as the early deals start Friday morning and the retailer talks about the Black Friday shopping experience that customers will experience on Thanksgiving Day and Black Friday 2013.
The Walmart Black Friday 2013 ad arrived last week with a collection of great, and not so great deals, and this week we are learning more about what Walmart will off in stock on Black Friday, how the guaranteed in stock doorbusters will work and addition information about Walmart's HDTV Black Friday deals.
When the Walmart Black Friday 2013 ad starts, on Thanksgiving by the way, shoppers will have a better chance at getting what they came for, but Walmart suggests bringing a friend or three if you want to get all the doorbusters.
In an interview with PC Magazine Walmart outlines a collection of new details and in tips published on Walmart's website, the retailer explains what shoppers can expect for the Black Friday 2013 shopping event.
Walmart Black Friday 2013 HDTV Deals More Plentiful
While Black Friday is not the best time to buy a name brand HDTV, it is one of the cheapest days to by a large off brand HDTV if you can find one in stock.
Walmart is making this easier with one HDTV that is guaranteed in stock for the first hour, or you can buy it or delivery by Christmas at the Black Friday price. That's a 60-inch Smart LED HDTV from Vizio.
"When we talk to customers … the No. 1 complaint they have is — 'I didn't get what I wanted, I couldn't get what I wanted,"  Steve Bratspies, executive vice president of general merchandise for Walmart U.S. told PC Magazine. And according to the report, Walmart is increasing the amount of HDTV in stock by 65% from last year and will carry double the amount of tablets.
Walmart Black Friday 2103: PS4 and Xbox One in Stock
Walmart is holding PS4 stock for Black Friday according to Laura Phillips, senior vice president of Entertainment for Walmart U.S. The retailer already has the PS4 in warehouses and will distribute it to stores in time for the Thanksgiving day start of Black Friday sales.
That's sad news for gamers who would love to buy a PS4 right now, but at least there will be an option to get one on Black Friday, even if there won't be a deal.
Walmart will also have the Xbox One in stock on Black Friday, though the retailer does not share any minimum quantities for these hot items. Shoppers will need to be in line for a wristband when the sales start at 6PM on Thanksgiving.
Walmart Black Friday 2013 Store Maps, Plans and Tips
The Walmart 203 Black Friday sales will be organized by wristbands which shoppers will need to line up for in special parts of the store. The hope is that this will address unruly crowds and civilize the Black Friday shopping experience.
On November 25th Walmart will offer Black Friday maps of local stores to outline where items will be and where lines will form. This should help cut down on the confusion. As lines will start at the same time, if you need multiple Black Friday doorbusters you will want to bring some friends or family to stand in other lines. Here's a list of the Walmart Wristband items and the times lines will start selling the items.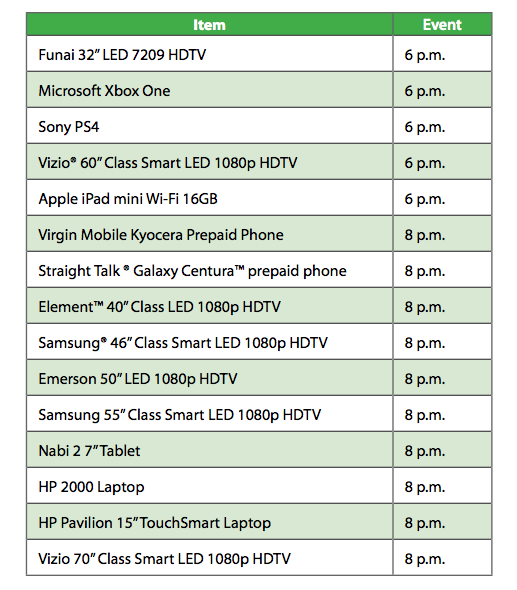 You can also download the Walmart app to see Black Friday information while on the go during the actual sales. Walmart's Black Friday ad is now online and some pre-Black Friday deals are already available online right now.

As an Amazon Associate I earn from qualifying purchases.