Walmart Black Friday 2013: What You Need to Know
The Walmart Black Friday 2013 sales start on Thanksgiving at 6PM, but you'll need to start lining up much sooner to get the best deals as there are even limits on the guaranteed in stock deals.
Wether you are a veteran or a first time Black Friday shopper, we've rounded up everything you need to know about the Walmart Black Friday 2013 sales and in store plans to help you have the best shopping experience. We aren't here to tell you to dress in layers, take water and a snack — these are details about the way Walmart will run Black Friday 2013 in stores on Thanksgiving and on Black Friday proper.
While some stores are already selling Black Friday deals online, Walmart wants shoppers to come into the store and buy not just a doorbuster, but a cart-full of other merchandise that isn't discounted as heavily as the doorbusters and guaranteed in stock items.
Guaranteed in Stock Items Last for 1 Hour
For the second year the Walmart Black Friday sales come with guaranteed in stock items. These 21 Black Friday doorbusters are available for 6-7PM on Thanksgiving with an option to buy a gift card that will get you the deal delivered by Christmas if the store runs out.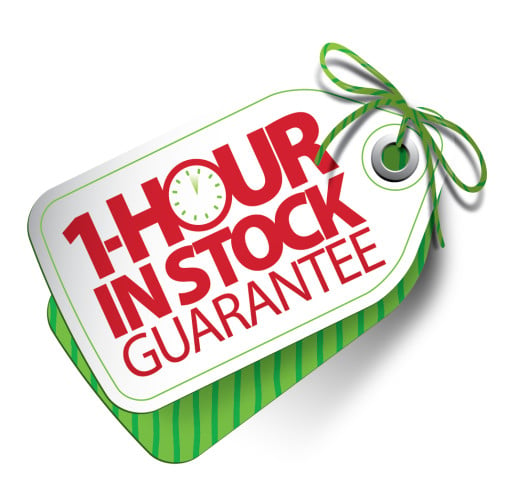 This includes an iPad mini that is basically $100 off, a huge HDTV, a $288 HP laptop and many other items. You will still need to get in line and get to the front by 7PM on Thanksgiving, but that's still a better deal than chancing that the store is sold out.
If this works out for a second year in a row this practice could revolutionize Black Friday shopping.
Two Main Walmart Black Friday Events
The Walmart Black Friday 2013 sales are separated into two main events. The first one starts at 6 PM on Thanksgiving and includes the guaranteed in stock items, and the second arrives on Friday morning at 8 AM.
The first deal will be the busiest with many HDTV deals, the PS4 and Xbox One in stock and the iPad mini deal that is on the front page of the ad.
Walmart saves its iPhone Black Friday deals for the second event, offering a $75 gift card with the purchase of an iPhone. The retailer also offers a $100 gift card with the purchase of select Android smartphones.
Walmart Black Friday Wristbands
In order to get the best Walmart Black Friday 2013 deals you will need to stand in line and get a wristband. This is setup so that you will only be able to get in one line at a time. If you want an iPad mini and the HDTV doorbuster you will need to bring a friend or family member.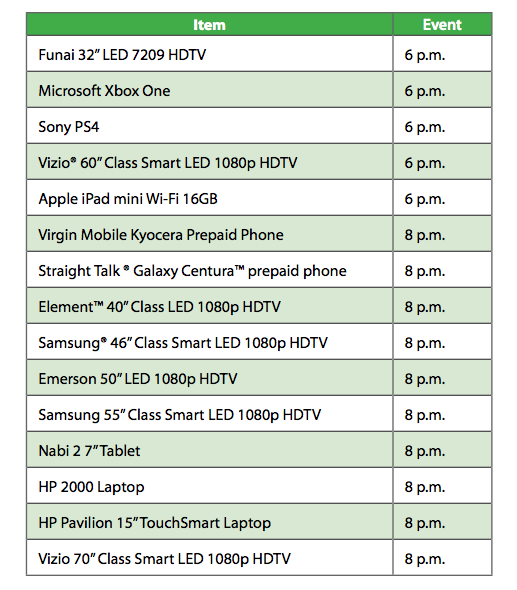 This also means you will only get one of the item, no stocking up on multiple iPad minis or notebooks. This will help keep shoppers from stampeding to pallets of items and ensure that one shopper doesn't buy up all the items.
Some Online Deals, But not the Best
The Walmart Black Friday online deals will not match those found in stores. Specifically we already know the iPad mini deal and the 70-inch HDTV for $998 will not be available online at Walmart.com.
Read: Walmart's Online Black Friday Deals can't Match In Store
Walmart wants you to go into the store and buy a lot of other items that you might otherwise pass over if you are shopping online. Walmart is planning a big Cyber Monday sale where some deals will arrive online. If you can't go to a Walmart store, you may be better off waiting for Cyber Monday.
Even With Plans, Expect a Crazy Day
No matter how much planning Walmart puts into place and how much prep you do, Black Friday is a crazy shopping day. Someone will lose their temper and may cause a scene and we will see at least one news report of a fight, so do your best to keep a calm head.
Come prepared knowing where to line up and arrive in plenty of time to get in the right line or lines so you can avoid the last-minute craziness that comes with Black Friday shopping.
Walmart Black Friday 2013 Store Maps
If you want to know where you need to go on Thanksgiving, there are Walmart Black Friday maps that show where the wristband locations and deals are for local stores. This is an essential tool for planning your Black Friday shopping trip to Walmart.
On the Walmart Black Friday 2013 website you can see the store map for your local Walmart with locations for 24 items and product categories. You can save the store map image to your phone or tablet, or print it out for easier access.
Manager's Specials at Every Store
In addition to the advertised Black Friday deals, each Walmart will offer Manager's special deals.
There may be some very good deals here, but with last-minute offers there is also a chance that some of these will be older outdated items that aren't worth buying. If you think you are interested grab the box, but then look up reviews and compare prices before checking out.
Walmart Black Friday Deals Worth Waiting For
The best Walmart Black Friday 2013 deals are worth waiting for because they promise that the items will be in stock, or the savings are simply that big.
Read: Best Walmart Black Friday 2013 Deals
The iPad mini deal is hard to pass up, even if you can get it at Best Buy today and Thanksgiving day, and the 70-inch Vizio HDTV for $998 is incredibly tempting — even though you'll need a big truck or minivan to haul it home.
For more, check out our Black Friday 2013 coverage.

As an Amazon Associate I earn from qualifying purchases.