Walmart Black Friday 2013: The Only Place Worth Waiting for Tech Deals?
There are plenty of advertised Black Friday deals this holiday season, but it looks like Walmart's Black Friday deals are the only ones worth lining up for. While other retailers like Best Buy and Target are advertising a number of compelling Black Friday deals, Walmart is the only one guaranteeing that early shoppers will actually be able to purchase some of those items at the advertised prices.
Walmart first introduced its One Hour Guarantee for Black Friday 2012 after receiving heavy criticism for its chaotic Black Friday sales in previous years. The scheme allows people to line up for wristbands that guarantee that they'll be able to purchase the item they're most interested in as long as supplies last. They can then redeem the wristbands once the sales kick off at 6pm or 8pm depending on the item. Once Walmart stores run out of wristbands for particular items, they will begin selling  Guarantee Cards for each of the 21 items that are part of the promotion for one hour. These Guarantee Cards are essentially gift cards that lock in the Black Friday pricing for when Walmart gets the advertised items back in stock and pick them up before Christmas.
Read: Walmart Black Friday 2013: Are Guaranteed In-Stock Items Worth Buying?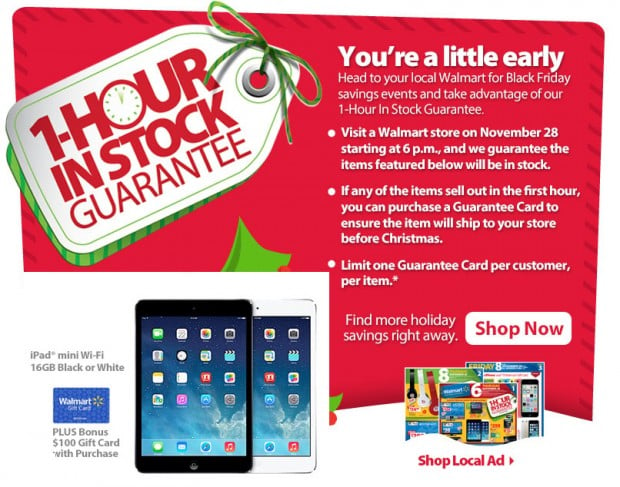 What this means is that if you skip out on Thanksgiving dinner for one of Walmart's 21 guaranteed in-stock items, you'll have a good chance of being able to actually buy it. We say good chance, because despite Walmart's best efforts, Black Friday sales are notoriously hectic and things don't always go as planned.
Walmart takes Black Friday very seriously and its One-Hour Guarantee is a testament to that. Other retailers such as Best Buy used to advertise pathetically low minimum stock numbers on its best Black Friday deals, but the most of those who lined up on Thanksgiving walked away without getting a chance to score those deals.
In a press release, Walmart CEO Bill Simon wrote:
"Black Friday is our day – our Super Bowl – and we're ready to prove once again that no one does it better than Walmart."
Walmart's One Hour Guarantee on Black Friday covers the best iPad mini offer we've seen to date. The 16GB Wi-Fi iPad mini will sell for the standard $299 price, but Walmart is throwing in a $100 gift card that can be used on any other item. This effectively makes the iPad mini $30 cheaper than the Google Nexus 7.
While Walmart's list of in-stock guarantee items is pretty limited, it sure beats what others have to offer. Depending on how many die-hard Black Friday shoppers live in your neighborhood, you may need to skip Thanksgiving altogether and line up early Wednesday to have a chance at scoring other retailers' doorbuster deals.
Read: Best Walmart Black Friday 2013 Deals