Walmart Black Friday 2014 Delivers Incredible iPhone 6 Deal
The Walmart Black Friday 2014 ad includes an incredible iPhone 6 deal, and shoppers can buy an iPhone 5s for just $4 after a gift card deal.
You'll need to be eligible for a two-year upgrade from your carrier and will need to stand in line for this deal. This is not one of the 1 Hour Guaranteed in stock deals, like the iPad mini, so you will need to plan and give yourself plenty of time to get one while it is in stock.
This is not as good as the rumored Sam's Club $99 iPhone 6 deal, but you don't need to be a member to shop at Walmart.
Apple Black Friday deals are a highlight of every Black Friday ad so far this year with big discounts, that likely beat what we'll see in the Apple Black Friday 2014 ad.
Even though you need to wait in line, you can save almost $100 off the normal price of the iPhone 6 at a carrier thanks to this deal.
Walmart Black Friday 2014 deals start at 6PM on Thanksgiving Day, but you need to wait for early int he morning of Black Friday 2014 to score this deal. At 6 AM on November 28th you can buy this iPhone 6 deal and an iPhone 5s deal.
The normal Walmart iPhone 6 price is $20 less than Apple, and on Black Friday Walmart adds in a $75 gift card that effectively drops the price to $104 before taxes and activations. You can't use the gift card on the iPhone 6 purchase, but since this is Walmart you can spend that on groceries and other things you would already buy, turning it into savings you can use.
Read: iPhone 6 Review
Shoppers also get a $75 gift card with the iPhone 5s purchase on a two-year contract. The iPhone 5s is $79 with a two-year contract, so this iPhone 5s Black Friday 2014 deal drops the price to $4 effectively before taxes and activation.
The Walmart Black Friday 2014 ad also includes an offer for up to $200 for your old smartphone. There is no guaranteed minimum, like with some recent ads. With this in mind you will want to check the value for your phone on Walmart's trade-in site and on competing services like Gazelle, Glyde and eBay.
Target offers an iPhone 6 Black Friday deal for $179 with a $30 gift card that drops the price to $149 on a two-year contract. Walmart's Black Friday ad shows a clearly better deal. Target on the other hand offers better iPad Black Friday deals.
The Walmart iPhone 6 Black Friday deals are limited in quantity and only available for Verizon, Sprint and AT&T. This is on the 16GB iPhone 6 and is available in all colors. There is no listed iPhone 6 Plus Black Friday deal.
Apple's new iPhone 6 offers a larger 4.7-inch screen, Touch ID with Apple Pay, an improved camera and a new metal design.
Duncan Mac Naughton, chief merchandising officer at Walmart is certain the retailer is ready, announcing, "We've started our pregame stretch and are giving our customers just what they need to score their top picks," adding, "We're ready to deliver the Super Bowl of savings once again."
The preparation comes with wristbands, an interactive guide and store maps to show customers where the Walmart Black Friday 2014 deals are located.
Black Friday 2014 Deals & Ads
Walmart Black Friday 2014 Ad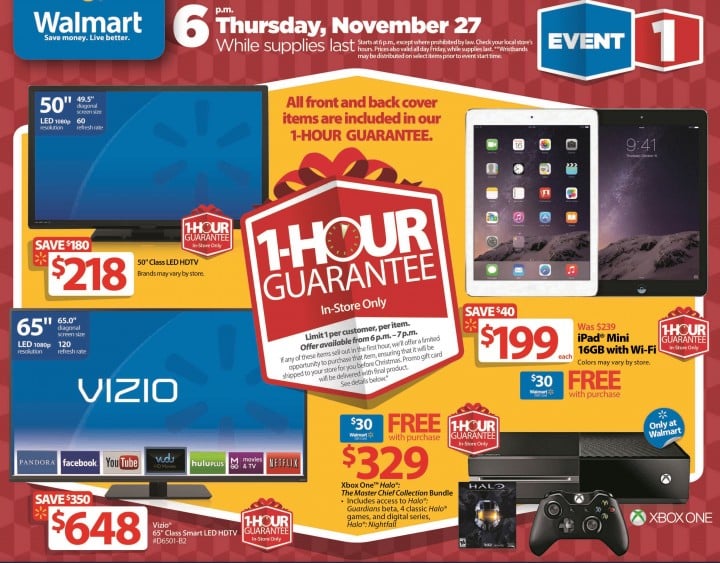 Walmart Black Friday 2014 deals start at 6PM on Thanksgiving and roll all the way through Cyber Monday. There are three specific events on Thanksgiving and Black Friday 2014, including nine 1 Hour Guarantee items that are in stock or you can get it by Christmas at the Black Friday price.
This includes a 65-inch Vizio HDTV for $648, the Xbox One with Halo for $299 after gift card rebate and an iPad mini for $169 after gift card.
You can check out more details on how the Walmart Black Friday 2014 1 Hour Guarantee will work. Duncan Mac Naughton, chief merchandising officer at Walmart states, "We've taken significant steps to improve the 1-Hour Guarantee process from beginning to end. It's simple and seamless."
Walmart beat our Xbox One and PS4 Black Friday 2014 predictions with big savings on the Xbox One and the PS4 GTA 5 and The Last of US Remastered bundle for $399. Here's a look at the nine guaranteed in stock items for 2014.

50" Class LED HDTV for $218 ($180 savings)
Vizio 65" Class Smart LED HDTV for $648 ($350 savings)
Apple iPad Mini 16GB with Wi-Fi for $199 with a $30 Walmart Gift Card ($70 value)
Xbox One Halo "The Master Chief Collection" Bundle for $329 with a $30 Walmart Gift Card
RCA 7" Google Play Wi-Fi Tablet for $29 (special buy)
Samsung Galaxy Ace Style on Straight Talk Wireless for $29 ($100 savings)
LG Blu-ray Disc Player for $35 (special buy)
Beats by Dr. Dre Wireless Headphones for $149 ($130 savings)
HP Intel Celeron Touch Laptop for $249 (special buy)

You can see the full Walmart Black Friday 2014 ad and deals online now. Wlaamrt will post store maps on November 18th and share more detials as the event approaches.

As an Amazon Associate I earn from qualifying purchases.