Walmart's Best Black Friday Tech Deals
Walmart's advertising more than 1,400 Black Friday deals in a massive 45-page Black Friday ad. But it might not be worth waiting for hours in line this Thanksgiving to score gadgets unless you're zeroed in on specific items that are worth the wait.
Walmart is opening at 10pm on Thanksgiving for its first round of Black Friday doorbusters. While many retailers only guarantee limited quantities for each doorbuster deal, Walmart is guaranteeing special pricing to anyone that's in their stores by 11pm on the three hardware deals.
Here's a breakdown of Wal-mart's best Black Friday tech deals and some alternatives if you plan on shopping online instead of camping out.
 iPad 2 and $75 Gift Card for $399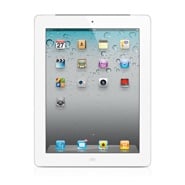 Walmart is offering the 16GB iPad 2 for $399 for one hour, beginning 10pm on Thanksgiving. Of course $399 is the standard MSRP for the 16GB iPad, but Walmart is throwing in a $75 gift card that can be used for iPad accessories or anything else the retailer sells. The effective $75 discount brings the iPad 2 down to just $325, which is four dollars cheaper than the iPad mini. The smaller iPad is much newer than the iPad 2, but some people will prefer the iPad 2's larger display.
As with all deep Black Friday discounts there is a catch. Walmart guarantees the iPad 2 deal for those in their stores between 10pm to 11pm on Thanksgiving night. The fine print in Walmart's Black Friday ads states that those in the stores during the allocated times can either buy an iPad 2 outright until they run out or purchase a $399 Walmart gift card that's redeemable for the iPad 2 once the retailer receives more stock. Shoppers will have to register these special Black Friday raincheck gift cards by Sunday and keep an eye on their email accounts alerts from Walmart to come pick up their iPad 2s. Any missteps mean the $399 raincheck gift card reverts to a standard gift card and the shopper must forfeit the $75 gift card. An hour isn't a lot of time to make it into Walmart and complete the transaction considering the massive Black Friday crowds Walmart attracts each year, which means that a lot of interested people are probably going to miss out on this deal.
There are other alternatives if you don't want to jump through Walmart's hoops to score a deal on the iPad 2. We're expecting Apple to discount at least one of its iPad models by about $40 on Black Friday, though the company hasn't officially announced any of its Black Friday deals yet. That discount is $35 less than Walmart's, but you can take advantage of Apple's deals from the comfort of your home rather than leaving Thanksgiving dinner early to wait in line. Best Buy is offering $40 to $60 off the iPad 2 and iPad with Retina display depending on the model.
32″ LCD TV for $148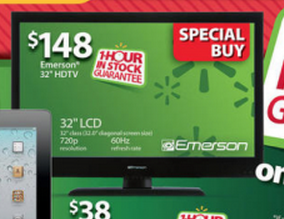 As with the iPad 2, Walmart is guaranteeing early Black Friday shoppers will be able to buy a 32″ Emerson LCD TV for just $148. The TV doesn't have all the bells and whistles you'd expect on a more expensive TV, but what do you want for something that's priced like an iPod nano? It's picture may not wow video snobs, but it should be good enough for those with lower expectations.
If you don't want to wait in line, you can pick up a similar TV from Walmart today for just $178. That's just $31 more than the Black Friday deal, but at least you're guaranteed to get a TV under the Christmas tree.
$38 LG Blu-ray Player

The final item in the '1-Hour in Stock Guarantee' trio is a Blu-ray disc player that costs just $38. The Blu-ray player normally sells for $59. This would make a great gift for someone in need of a DVD/Blu-ray player and looks pretty substantial for less than $40.
Want to skip the line? Amazon.com has a handful of Blu-ray disc players that cost about $10 more than Walmart's special.
Nook Color for $99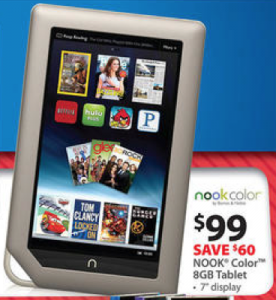 Walmart will have limited quantities of the Barnes & Noble Nook Color for just $40 less than  what Barnes & Noble is currently selling the device for. The 8GB color eReader features a 7″ display and 8GB of storage. This is a pretty significant discount, though this isn't the latest and greatest Nook.
This is a good deal for an entry-level tablet, but if you're looking for a true eReader you should consider the Amazon Kindle Paperwhite, which sells for $119. It has perhaps the best display for reading text of any eReader.
iPad Tri-Fold Folio with Stand for $10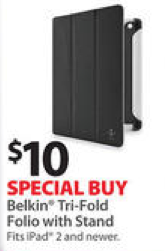 The iPad Tri-Fold Folio with Stand is an excellent gift idea for iPad users in need of a case. The folio protects both the front and back of the iPad (iPad 2 and newer) and props up the tablet for watching movies. This iPad case normally sells for $29.99, which means Walmart shoppers are getting 2/3 off.
Console Video Games for $10 to $25
Walmart's offering select PS3, XBOX 360 and Nintendo Wii games for between $10 and $25. The $10 offerings are mostly older titles, with newer titles, such as NBA 2K13, Madden 13 and FIFA Soccer 13 priced at $25. Assassin's Creed III for XBOX 360 will cost $38.96, a $21 discount.
The video game sale kicks off at 8PM on Thanksgiving and the sales prices are only good for stock on hand. Walmart is not offering rain check on the more than 100 discounted games.
We recommend keeping an eye on BestBuy.com and Amazon.com for more video game deals to kick off this week. While Walmart's offerings are attractive, our excitement for this promo is muted considering Walmart isn't guaranteeing that all of the advertised titles will even be in stock at every store. The latest, most popular titles will sell out quickly at these prices.

As an Amazon Associate I earn from qualifying purchases.