Walmart Imitates Apple Stores, Use iPhone Scan & Go for Purchases
Walmart will soon let customers in 130 more stores scan items with an iPhone app and easily pay for everything at self checkout registers.
According to Reuters Walmart's "Scan & Go" program will increase from 70 to more than 200 stores in the near future. The program lets users scan items with an iPhone app as they shop. When the shoppers have everything they want they can use that app to at a self checkout register to pay for everything without taking it out of a cart.
Walmart's program is already available in Bentonville, Arkansas and Atlanta, Georgia. Soon the program will expand to include stores in Denver, Colorado; Phoenix, Arizona; Omaha, Nebraska; Dallas and Austin, Texas; Oklahoma City and Tulsa, Oklahoma; Wyoming; Bozeman, Montana; Seattle, Washington; San Jose, California; and Portland, Oregon.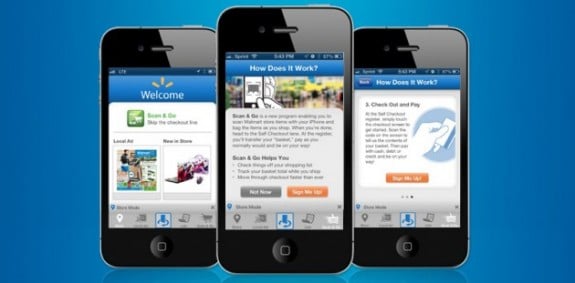 At just 200 stores Scan & Go is only in a small percentage of Walmart's 4000 total U.S. stores, however. Presumably the program will expand to more stores in the future. Walmart claims that more than half of its shoppers use smartphones.
For now Walmart only offers the Scan & Go app to iPhone users, though an Android app is coming soon. There's no word on when it will come, however.
Apple also lets shoppers in its retail stores scan items using an iPhone app. Apple lets its shoppers buy items from the app using their Apple ID, however. Walmart's app won't let shoppers pay with the app.
Walmart shoppers still have to pay with either cash or credit card at a register after using the app. Other stores such as Stop & Shop already use this method in their stores.
The Walmart Scan & Go app makes it much easier to shop in the store as users won't have to interact with employees unless they really want to. Theoretically it also means shorter lines at the self checkout registers.

As an Amazon Associate I earn from qualifying purchases.