Walmart iPad Mini Deal Cuts Price to $199
Earlier this month Apple discontinued the old and aging original iPad mini, and is no longer selling it online. It's slowly becoming harder to find, but for those who'd still like to get a great tablet for a low price, today Walmart announced they've rolled back the price by $50 and will now be offering Apple's original 7.9-inch iPad for only $199.
Recently we've been seeing a lot of reports and rumors about an all-new iPad mini 4 coming soon, and the iPad mini 3 is still a great option, but priced way too high at $399 for the 16GB model. If that's too much for some, considering grabbing the original.
Read: iPad mini 4 Rumors Ignite
The original iPad mini was more of an experiment than any for Apple. Coming with a small 7.9-inch screen that wasn't a Retina display, while all others had HD screens. It had older and aging internals, but was still hugely successful. Read on for all the details on this tablet, and the new iPad mini deal announced moments ago.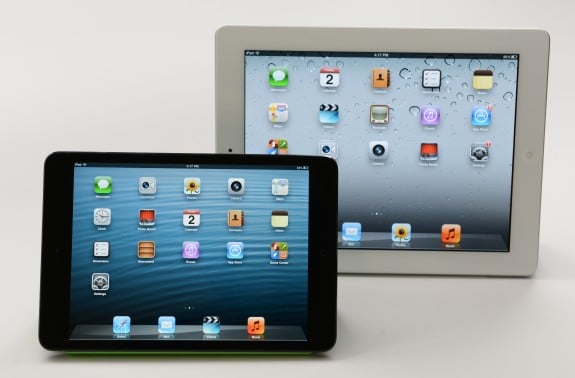 Apple's original iPad mini isn't the best tablet by any means, but it's still an excellent small and portable tablet running the latest iOS 8.4 that was just released this week. This means that while it's an older tablet and doesn't have a retina display, nor does it feature TouchID, it still runs the latest software from Apple.
The iPad mini may be old, but it still has plenty to offer, especially for those on a budget looking to find a great deal during the summer months or fourth of July shoppers. Even the iPad mini 2 is around $250 or more used, so getting a brand new iPad mini for $199 is a pretty excellent deal.
With a fast processor and a premium aluminum design, the small iPad mini was a great little device when it first debuted back in October of 2012 and released in November. It offered a perfect middle ground in terms of size, and was Apple's response to the Nexus 7 and a slew of smaller affordable Android tablets digging into the iPad market share. For more details on the iPad mini check out our review below.
Read: iPad Mini Review: The New Default iPad
Being both affordable and portable, Apple has a winner with the iPad mini, which is why they've released multiple versions over the past three years. However, it's starting to show its age and there are many better options available, but not at this price point.
Today Walmart announced a permanent "rollback" price for the original iPad mini, and will be offering the small tablet both online and in stores for only $199. However, my nearby Walmart doesn't have any in stock, and many buyers may run into the same problem. This means the deal is easiest to grab online, where Walmart has both the silver and space gray iPad mini for only $199.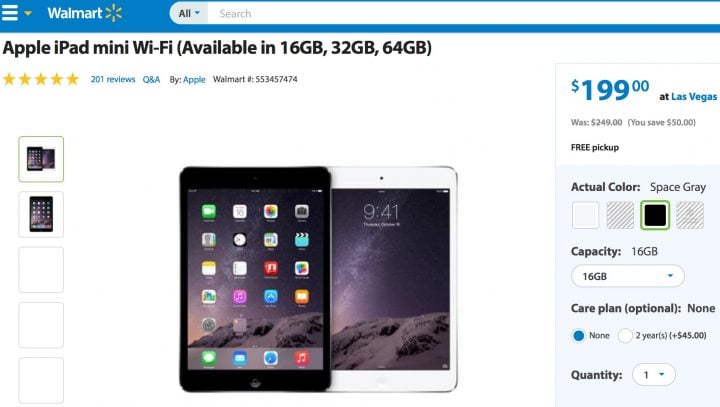 As a reminder, the original iPad mini comes with a 7.9-inch 1024 x 768 resolution display, the dual-core Apple A5 processor with 512MB of RAM, 16GB of storage, a 5 megapixel rear and 1.2 front camera for FaceTime video chat, and as we mentioned above was recently updated to the brand new iOS 8.4 software release.
It isn't the best tablet around for $199, and recent iPad mini 2 deals or even a refurbished iPad mini 3 may be a better route. That said, buyers who absolutely want an iPad but are on a budget, this is one of the lowest prices around. There's no telling how long inventory will last especially considering Apple discontinued the tablet, so those looking to snag an iPad for cheap will want to jump on this deal as soon as possible.