Walmart Selling iPad Minis for $299
The iPad Mini with Wi-Fi and 16GB of internal storage is on sale for $299 for pick up at Walmart, or for order on Walmart.com.
As part of its "Rollbacks" discount program Walmart offers the iPad Mini 16GB in both white and black. It can be shipped or paid for online and picked up in-store. Unlike the discounted versions of the iPad mini in Apple's online store, these iPads are brand new units that haven't been refurbished. Regularly the iPad Mini 16GB starts for $329 for the 16GB version with Wi-Fi and $465 for iPad Mini 16GB with Wi-FI and cellular data connectivity.
The iPad mini 64GB is on sale at Walmart as well. This "Special Buy" pricing includes the iPad mini 32GB with Wi-Fi for $434.50, and the iPad mini 64GB with Wi-Fi $535.
Read: iPad Mini Review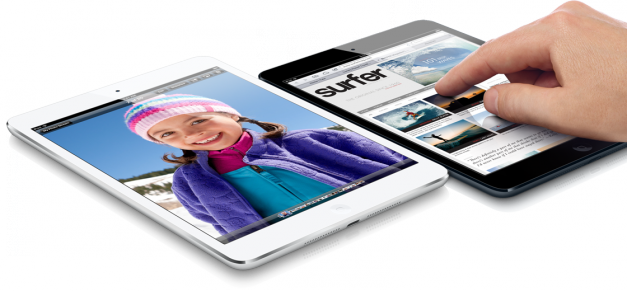 For shoppers looking for more screen real-estate than the 7.9 inch screen the iPad mini can offer, Walmart has the latest generation iPad at regular price with an Ematic 10-in-1 Accessory Kit free of charge. This kit includes an auxiliary cable for plugging in the iPad to a stereo, a car charger for keeping a full battery during long road trips, a rechargeable Bluetooth speaker, a wall charger, screen protector, carrying pouch, audio splitter for sharing audio with friends, one set of ear buds, a cleaning cloth and a stylus. The Ematic Accessory Kit ships with the iPad with Retina Display 16GB with Wi-Fi for $499, iPad with Retina Display 32GB with Wi-Fi for $599, and the iPad with Retina Display 64GB with Wi-Fi for $699. Both white and black versions of each are included in the offer.
The iPad with Retina Display debuted this past fall and uses Apple's latest generation 1.4 GHz A6X processor, Bluetooth 4.0 and the new Lightening port. As the Lightening port replaced the 32pin dock connector that was used on the first three generations of the iPad, buyers upgrading from an older iPad may need to factor in the replacement of their docks and cables into the purchase of any new iPad with Retina Display and iPad Mini. Users can pick up Apple's Lightning to Dock Connector Adapter from Walmart for $24.98.

As an Amazon Associate I earn from qualifying purchases.