Walmart Slashes iPhone 4S Price in Some Stores (Updated)
Select Walmart stores have apparently slashed the prices of Apple's iPhone 4S and iPhone 4 with the iPhone 4S price dropping by $74 and the iPhone 4 price dropping by $54.
Cult of Mac has acquired some flyers that indicate that Walmart has dropped the prices on Apple's iconic smartphones. These prices, detailed in the flyers below, are attached to AT&T devices bought with new two-year agreements.
According to these flyers, the 8GB iPhone 4 on AT&T has dropped from its regular price of $88 to $34 while the 16GB iPhone 4S on AT&T is available for a mere$114, discounted from its usual $188 asking price.
Updated: Cult of Mac has updated its story saying that Walmart confirmed that the pricing was a mistake and that some stores experienced a pricing error.
Read: iPhone 4S Review.
Unfortunately, 9to5Mac is saying that this deal is only available at select locations. The original report stated that the deal was available at a Walmart in Edmond, Oklahoma. It also seems to be available at a location in Austin, Texas.
So, it's certainly possibly that this is a regional deal and not one that is going to come to Walmart stores nationwide. Those interested in the deal will want to call up their local store to be sure that the deal is being offered.
At this point though, it may be like hitting the lottery.
With the launch of the iPhone 4S, the iPhone 4 dropped in price and became available in only 8GB form. The iPhone 4S on the other hand is available in three sizes, 16GB, 32GB and 64GB. The iPhone 4S has been out since October and it has become the top selling phone on AT&T and Verizon and presumably at Sprint as well.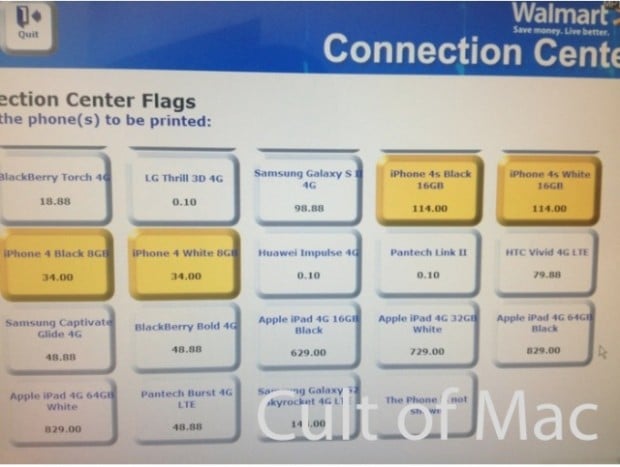 Apple's next iPhone, presumed to be the iPhone 5, isn't rumored to be coming out until the fall, so those that are impatient or need to make a purchase now would be smart to at least give the iPhone 4S, and possibly the iPhone 4, a look.

This article may contain affiliate links. Click here for more details.