Walmart's Biggest Black Friday 2014 Deal: 65″ HDTV for $648
If you're looking for the best Black Friday deal at Walmart this year, you'll want to take a look at the 65-inch Vizio HDTV (model D650i-B2)  that's on sale for $648.
Walmart's Black Friday deals officially start at 6pm tomorrow, where you'll be able to take advantage of some very good deals, one of those being a giant name-brand television for less than $700, which is quite the steal.
HDTVs are one of the biggest products that are always on sale during every Black Friday, and you can usually find a ton of them on the front pages of almost every ad circular. While many of the televisions on sale aren't name-brand models, you can usually find them discounted to ridiculously-low prices, like $218 for a 50-inch HDTV at Walmart.
However, if you're looking for a name-brand television, you'll be paying a bit more money for the privilege, but you'll still save quite a bit of cash.
The 65-inch Vizio HDTV for $648 is a good example, which Walmart says you'll save $350 off of the normal price. However, even though it's a Vizio, every name-brand company has different model lineups, some of which are lower quality. With Vizio, the D series of televisions are on the low end, and this one discounted at Walmart is a D-series TV.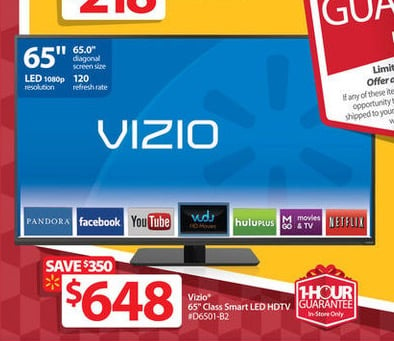 For instance, looking at reviews from Sam's Club on this Vizio television, it has a 65% recommendation rate, which isn't great, and out of 20 reviews, 6 of them are either one or two stars out of five stars.
However, the TV does support 120Hz, which isn't the best for sports by any means, but it's certainly doable, especially considering the low price that you'll be paying. The overall picture quality might not be as good as higher-up models as well, but if you're not a HDTV snob, we're guessing this D-series Vizio television will do the trick for most consumer households who want a big TV in their living room.
This Vizio HDTV also supports full 1080p HD, which is to be expected, since most televisions nowadays support the higher resolution, but it's definitely something to still keep an eye out for, especially cheaper smaller TVs, where it's possible that they could only go up to 720p.
If you're not sure what the differences are between 1080p and 720p, it's all about the resolution. 1080p has a resolution of 1920×1080, whereas 720p has a resolution of 1280×720. Higher resolutions are always better, as they stuff in more pixels into the frame to provide a crisper and sharper image.
The best part about the this 65-inch TV deal is that it will be a part of Walmart's 1-hour guarantee, where the store will guarantee stock for the television up to an hour after the store opens, no matter how many shoppers buy it. However, if you get there later within that hour, you may have to wait for Walmart to get more inventory in, as it could run out of initial stock in-store, but Walmart will reserve one for you if you get there within the hour.
While last year's biggest Black Friday deal included a 70-inch HDTV, this one from Vizio is a lot cheaper, whereas the 70-incher from last year rang up at just under $1,000, proving that televisions are getting cheaper and cheaper every year.