Want Apple's Siri? Better Get an iPhone 4S
Siri was one of the highlights from the iPhone 4S event today. Siri is a key feature that allows iPhone users to quickly access information and dictate text by simply speaking into the microphone. It's baked into iOS 5, but apparently you'll only be able to run Siri on the new iPhone 4S.
iPhone 4 users will be out of luck, even if they update to iOS 5. Apple obviously wants iPhone 4 users to upgrade to the iPhone 4S and Siri will likely entice some users to do just that.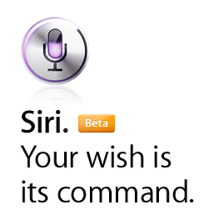 Limiting Siri to the iPhone 4S is likely more than just a marketing gimmick. The iPhone 4S has a much faster processor that can help crunch users' voices. The iPhone 4S also has HSPA, which is a fancy acronym that basically means data can be shuttled back and forth between your iPhone 4S and Apple's servers quickly to provide Siri results in a timely manner. The Siri user experience might not be up to par on iPhones with a plain old 3G connection.
https://youtu.be/rNsrl86inpo
Here's Apple's official Siri demo, which was shown during the iPhone 4S event.
Siri might not be appetizing to you, but this is one feature we expect Apple and its partners to emphasize in upcoming commercials and other marketing. It's one of those 'magical' features that will wow the average consumers. Consumers will likely show it to their friends as a party trick.
There's no mention of the iPad 2 on Apple's Siri web page. The iPad 2 has a faster A5 processor than the one packed in the iPhone 4S, so we know that the processor alone likely isn't the only limitation. Apple may want the app to work all the time, which wouldn't be the case with WiFi-only iPads or the many iPads that have 3G, but aren't signed up for wireless service. Whatever the reason, this will mean those with both an iPhone 4S and iPad 2 will have disparte experiences on their phones and tablets.
I hope Apple comes out and explains exactly why an iPhone 4S is required to run Suri.  It's just one of the more than 200 iOS 5 features Apple's bragging about, but it's a very important one. It'll be very unfortunate if Apple really does limit Siri to only the latest and greatest iPhone.
You can read more iPhone 4S articles here or learn more about the differences between the iPhone 4S and iPhone 4 here.
Does this bother you if your an iPhone 4 owner? Is Siri reason enough for you to upgrade to the iPhone 4S?