Warzone Firefight Halo 5 Update: All the Details
Halo 5 updates aren't a rarity. Since releasing Halo 5: Guardians last year, video game developer 343 Industries has updated the first-person shooter once a month, on average. These updates have added new maps to the game's multiplayer and new playlists for keeping similar play experiences and friends together. With the Warzone Firefight Halo 5 Update, 343 Industries is adding a huge stack of new content additions.
There are new maps, just like previous updates. This time around, players can expect three maps instead of the usual two. Also included are tons of new REQ Cards. In Halo 5: Guardians, REQ Cards allow players to summon specific weapons, ammo or gear without them already appearing in a multiplayer map. The Warzone Firefight Halo 5 update will add big changes to the game's mechanics and an all-new game mode that takes some inspiration from a previous game in the series, Halo 3: ODST. This new mode is called Warzone Firefight.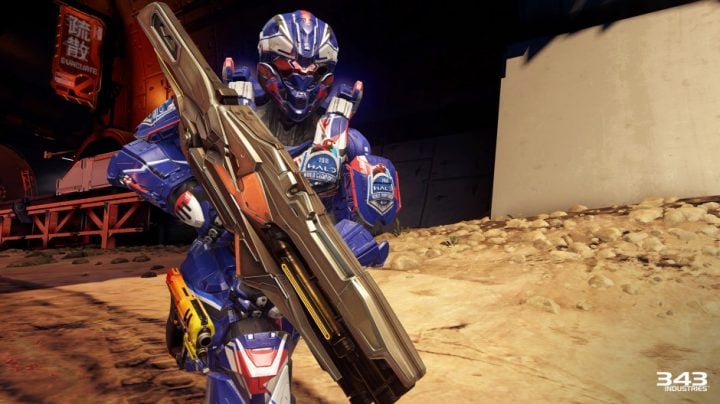 343 Industries tipped Warzone Firefight's impending launch earlier this year. Now the studio is about to make good on that promised update. Here's what we know about the upgrade for Halo 5: Guardians players already.
Warzone Firefight Halo 5 Update Release Window
Microsoft and 343 Industries revealed the Warzone Firefight Halo 5 Update was coming in June in a blog post on Xbox Wire earlier this year. The post was an on-high look at everything that the studio planned to deliver to Halo 5: Guardians this year. The two provided the details because it's important that they keep the Halo community excited about future updates. Halo 5: Guardians' multiplayer maps are free. Instead of charging players for new content additions, the Microsoft and 343 Industries allows users to purchase REQ Packs that unlock weapons and gear upgrades. If the story mode of Halo 5: Guardians is akin to a feature film, Halo 5: Guardian's Warzone and Arena multiplayer modes are like a cable television show.
343 Industries recently revealed the exact day of the Warzone Firefight Halo 5 Update's launch. The game update is set to arrive on June 29th.
Warzone Firefight Halo 5 Update: New Mode
Warzone Firefight, the mode that the update is named after, isn't a completely new idea for the Halo series. Two games in the series, Halo 3: ODST and Halo Reach. Both included Firefight Modes. In both incarnations, Warzone Firefight allowed players to team up against waves of incoming forces from the Covenant aliens that acted as those games' enemies. The point of Firefight has always been to last as long as you can through smart tactics, ammo rationing and sharp shooting. Halo 4 dropped the feature entirely; replacing it with Spartan Ops.
Microsoft and 343 Industries tested Warzone Firefight back in April. Its name is slightly different because it's changed to fit some Warzone multiplayer mechanics.
Up to eight different players can team up in Warzone Firefight, far beyond what was possible with the original version. Matches consist of five rounds with different, objectives for each round. There's a new Mythic Enemy type too. Like other Warzone modes, Warzone Firefight will let players redeem the REQ Cards they've earned or purchased.
Read: Halo 5 Warzone Firefight Beta – All the Details
Warzone Firefight Halo 5 Update: New Maps
There are four maps within the Warzone Firefight Halo 5 Update. Three of the them are meant for the game's core multiplayer experience. The fourth is specifically for those that like to make things with the Forge creation engine that 343 Industries added to the game late last year.
Of the three multiplayer maps, 343 only unveiled Prospect intially. Prospect is a UNSC base made specifically for mining minerals and needed materials for Earth and its remaining colonies. The map is huge, with wide spaces for bringing in vehicles. 343 notes that players can also rush the map to acquire power weapons and deal their opposing team a decisive blow early on. Prospect is tailored to Warzone Assault Mode.
Read: Halo 5 Problems & Fixes
Attack on Sanctum is set on Sanghelios, the planet that players visit during the games single-player campaign. It's specifically made for Warzone. Molten is an Arena map for players that like classic multiplayer modes.
The fourth map is what 343 Industries calls a Forge Canvas. It's a huge, expansive map with a water feature made specifically for those that like to build things in Forge Mode. Even players that don't make maps for the games will experience this map at some point; Forge Canvases are used in Halo 5: Guardians' custom game modes made by players.
Warzone Firefight Halo 5 Update: Gameplay Changes
With the Warzone Firefight Halo 5 Update, the game's campaign also gets a new feature: Score Attack.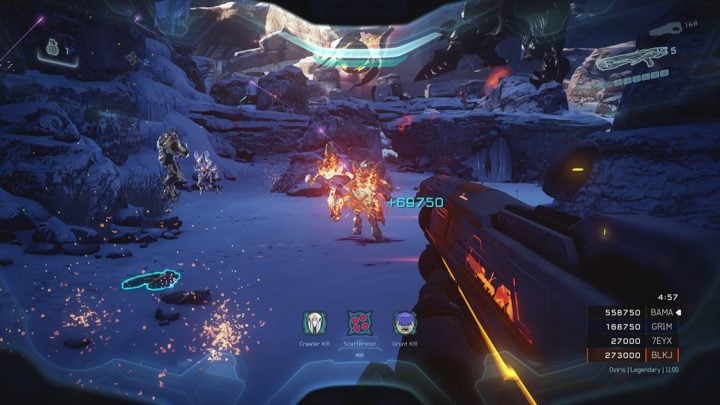 Think of Score Attack as a system designed for letting players track how well they're performing. Steady marksmanship and brutality earn players more points and a higher score. That score can be compared to the Score Attacks of other players. There are multipliers, depending on what Skulls players have turned on and the difficulty setting that they're playing on. Medal and achievements have also been added.
Warzone Firefight Halo 5 Update: New REQs
One interesting thing to note is that the amount of new REQ Cards coming with the Warzone Firefight Halo 5 Update isn't that large.
9 different REQ Cards were revealed in the Halo Waypoint blog post. One is Temple Banshee, an Ultra Rare alien aircraft. The new Cinder and Cyclops helmets and armor pieces are set to debut too. All are rated as Uncommon items.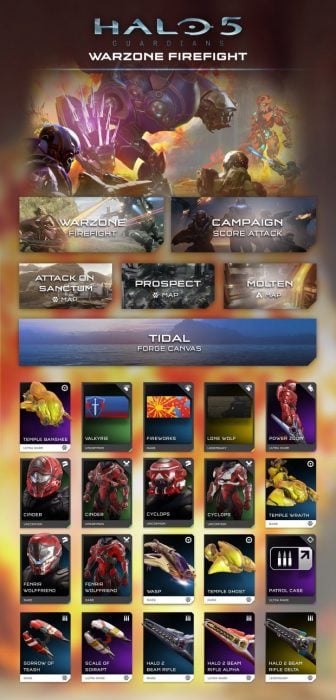 In celebration of the update's launch, Microsoft is making Halo 5: Guardians available for Xbox Live Gold users to play from June 29th until July 5th  at no additional charge. It has also heavily discounted the game.

As an Amazon Associate I earn from qualifying purchases.