Watch an iPhone Survive a 82 MPH Slapshot (Video)
The iPhone, ice and a slapshot don't usually mix, but in a promotion for the new G-Form X-Protect iPhone case, we can watch an iPhone sail into the goal thanks to an 82 MPH slapshot.
With the NHL Stanley Cup Playoffs in full swing, G-Form took advantage of the hockey mania to test out the extreme protection of the X-Protect iPhone case.
I still don't recommend throwing an iPhone onto the ice in celebration of a Flyer's goal, but this is an impressive demonstration of protection.
G-Form doesn't show what an iPhone looks like after an 82 MPH slapshot without the case, but I expect it would look something like this incredibly busted, but still functioning, iPhone.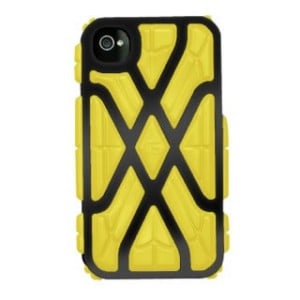 G-Form started out providing protection to something more important than the iPhone and iPad — humans. The G-Form sports protection paved the way for extreme protection for gadgets including the iPhone, iPad and laptops.
The Reactive Protection Technology includes the amazingly cool Poron XRD material, so the case is soft until force is applied, then it hardens to protect by absorbing shocks, including drops and slapshots. G-Form claims that this technology absorbs over 90% of the force from an impact.
We've reviewed the G-Form Extreme Sleeve for Notebooks on Notebooks.com, and came away impressed, especially after our notebook survived a drop to the pavement where the case landed on the corner, a weak point for many protective cases.
Most iPhone owners won't see their iPhone on the wrong end of a slapshot, but cases like the G-Form X-Protect and Otterbox cases serve an important role for many iPhone owners. While I don't need extreme protection iPhone users who work out in the field, use the iPhone during sports, travel and other hazardous for the iPhone activities often choose the iPhone and a protective case over military spec'd phones like the Casio G-zOne.
If you need heavy duty iPhone protection what's your case of choice? Has it saved your iPhone from any accidents?

As an Amazon Associate I earn from qualifying purchases.