Watch Dogs Launch Trailer Delivers Thrills, Chills & Explosions
There isn't too much time left until Watch Dogs, the high-profile open world game that gives Xbox One, PS4 and other players the ability to hack just about every section of Chicago, arrives on store shelves. That being said, game developer Ubisoft is pulling out all the stops as it aims to get as many people excited about the game as it possibly can. Take the game's launch trailer for example, it's roughly two minutes of action packed thrills that finally gets Watch Dogs out of the shadow of GTA 5.
Ubisoft, the game's developer and publisher, posted the new Watch Dog launch trailer to YouTube and sent out copies to this press late this afternoon.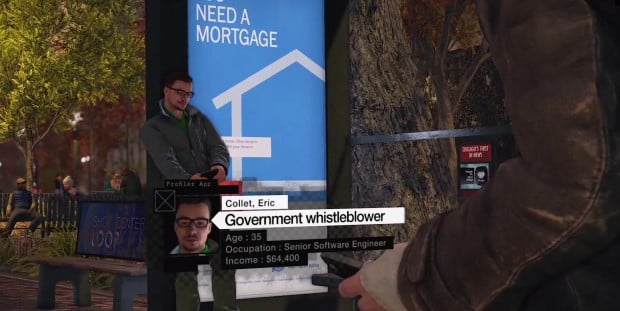 In the trailer, viewers are treated to their most complete look at protagonist Aiden Pearce's motives for taking on the establishment of a futuristic Chicago head on and the tactics they'll use to allude the authorities. It seems Pearce's family was killed by someone in a position of great power and Pearce is willing to use his smartphone and intimate knowledge of how Chicago's ctOS operating system works to bring down anyone in everyone in his way.
Early videos and screenshots of the game focused on Pearce evading police officers and taking advantage of citizens to meet his ends. That plus the open world nature of the game led many users to conclude that Watch Dogs was way too similar to last year's Grand Theft Auto 5 to be thrilling or original. That Watch Dogs was originally scheduled to launch around the same time as GTA 5 and was mysteriously delayed by Ubisoft certainly didn't help that opinion. When Ubisoft announced the new release date for the game this past March it insisted that it'd decided to push Watch Dog's release date back so that it could add more polish. What that translates to exactly remains unclear, but a piece by Polygon indicated that the developers added more back story for the citizen Aiden Pearce meets on the street at least.
That may sound like a small thing, but the game needs to nail the back story of random characters in order to be successful. The world of Watch Dogs is meant to feel alive and users are meant to feel like they're hacking, steeling and fighting for real people. It's easy to see why that's the case. After all, hacking systems to take advantage of them or being hacked is an emotional experience that's a bit more involved the wielding a gun or a generate launcher. By comparison, most adversaries and citizens in Grand Theft Auto feel hallow.
That's not to say that Xbox One and PS4 players won't do a little bit of that too when Watch Dogs makes its debut online and on stores on May 27th. In addition to having a smartphone that can hack the game's environment, users will be able to pick up dozens of weapons to take on enemies in the game. As today's video indicates, users won't be able to rely on these weapons alone though. They'll have to figure out how to use the weapons in their bag and hacking to achieve their ends.
According to a recent tweet from an Ubisoft employee, they won't be able to rely just on cheat codes to make it through the game world either. Ubisoft didn't add any cheat codes to the game at all, though there might be a way for Watch Dogs for PC players to have a little extra fun in the game as GottaBeMobile explained in a piece earlier today.
Read: Watch Dogs Cheats: Xbox One, Xbox 360, PS3 & PS4 Not Supported
Watch Dogs launches for the PS3, PS4, Xbox 360, Xbox One and PC on May 27th. It is coming to the Wii U, however users should expect that version of the game to arrive in the near future as it doesn't yet have a release date. 

As an Amazon Associate I earn from qualifying purchases.