Watch Dogs Reviews: What New Assessments Say About the Game
Watch Dogs, the new open world game that gives users a smartphone and firearms then tasks them with taking down organized crime in a futuristic Chicago, is receiving praise from most video game websites. Here's what we've garnered from early Watch Dogs reviews, and what every potential buyer should know before picking up the game on the Xbox One, PS4, PS3 and Xbox 360.
The consensus from most Watch Dogs reviews seems to be that Watch Dogs is GTA 5 with the ability for users to hack the citizens of Chicago — nothing more, but also nothing less.
To reiterate the game's story, users play as Aiden Pearce, a citizen of Chicago with the skills essential to hacking the city's municipal systems and other character's smartphones and bank accounts whenever he sees fit. Pearce begins confronting the cities bad guys after his niece is killed.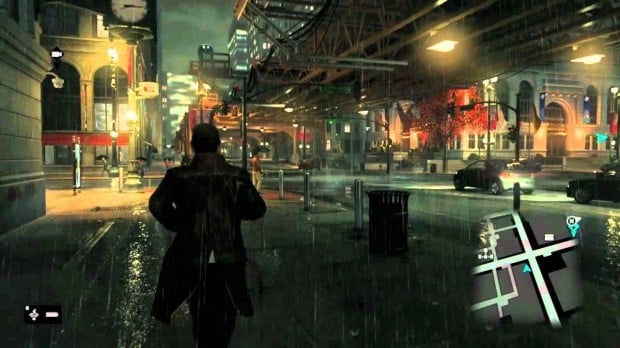 Watch: Epic 9 Minute Watch Dogs Video Shows Why It's Like GTA 5
The Verge's Andrew Webster was the first to take aim at the game's hacking abilities and how it compares to Grand Theft Auto 5 in his review, remarking that hacking cameras, traffic lights and other things in the game wasn't nearly as fun as the game's description makes it out to be. In addition to not finding the game's hacking mechanics all that excited, Webster also remarked about the game's story saying that Watch Dogs only briefly touched on its wider social story. He also declares that the Chicago players are hacking simply "doesn't fee alive." That the futuristic Chicago wouldn't feel alive is pretty interesting since Ubisoft specifically said that it it'd delayed the game to add more polish and make the citizens that inhabit the game more plentiful and unique.
Finally, Webster ends his Watch Dog review with a comparison to GTA 5, saying that series' strength has always been that it doesn't take itself too seriously. According to his Watch Dogs review, this new title has the opposite problem. "It takes itself too seriously, with a story and narrative that get in the way of the fun."
The Watch Dog review from Polygon's Arthur Gies runs along the same lines. Gies does note that Watch Dogs has "strong fundamental,s" giving users the tools they need to play the game however they see fit. Users can hack everything if they want, but it's Polygon's assertion that users have multiple options and that firing a gun feels just as comfortable in this game as the hacking that everyone seems to be paying so much attention to.
Gies also concluded that the game's story is both "well-trodden" and that it "struggles to remain coherent" as the game progresses.
Finally, Joystiq's Ludwig Kietzmann  also spent a great deal of his review discussing the hacking mechanic that most Watch Dogs reviews seem to agree makes the game unique. According to Kietzmann, "Watch Dogs reduces computer hacking to a magical verb that instantly influences just about anything." He goes on to say that "Watch Dogs is not about the act of hacking, so much as the influence it has on a society too dependent on software –software that controls, monitors and predicts the move of every citizen"
Kietzmann concludes that "there's a lot of pleasure in planning on a micro scale and initiating combat with surprise in your favor," thanks to hacking.  He also points out that the ability for other players to hack the games of their friends and family is Watch Dog's "smartest realization."
Read: Watch Dogs Midnight Release Locations, Deals & Early Play
Watch Dogs is available today for those who wish to play on the PC, Xbox One, Xbox 360 and PS3. The game costs $60 if purchased on disc or through Xbox Live or the PlayStation Network. Originally, Ubisoft, the game's developer, had plans to make the game available on Nintendo's Wii U gaming console. That's still happening, but Ubisoft hasn't announced a final release date for that version of the game.

As an Amazon Associate I earn from qualifying purchases.