Watch Live Television On Your Xbox One With Verizon FiOS TV
Users who have an Xbox One but no interest in connecting the console to their cable box to use its live TV technology have a cause for celebration. Starting today, users with an active FiOS subscription can download the FiOS TV app for the Xbox One and watch some of the service's channels live.
An employee for Verizon announced the new application in a post on Microsoft's Xbox Wire blog this afternoon. According to this post, that slate of live streaming channels – 74 in all – will be freely available to users. Of course, there are a few gotchas. For starters users will need an active Verizon FiOS television subscription to get the service working. There is an added cost too. Like all other entertainment apps on Xbox Live, users will need an Xbox LIVE Gold subscription to get the app working as well.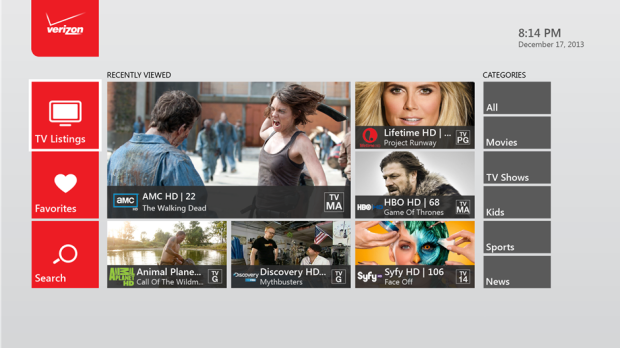 Verizon isn't charging its users any extra, but Xbox Live costs $9.99 a month if users don't have it already. Users can purchase a year of Xbox Live for $60.
Thankfully, there isn't any extra hardware involved with FiOS TV on the Xbox One. That means users can get the app working wherever they have a socket, a television and an internet connection.
All told, it doesn't look like the FiOS TV app is getting any functionality that we haven't already seen before. FiOS TV for the Xbox 360 allows users to watch live TV too. However, Microsoft finally starting to fill the gaping hole in the Xbox One's entertainment lineup is a bad thing. By our count, Xbox 360 users enjoy around 80 different entertainment apps depending on their locality. The Xbox One launched with access to just 16 of those apps. It's an issue we noted in our review of the Xbox One recently.
Read: Xbox One Review
Today's post did indicate that FiOS TV for Xbox One supports Kinect 2 voice and gesture controls, however it didn't say if FiOS TV for Xbox One surfaces content recommendations through the Xbox One's OneGuide. Currently, Hulu Plus and Machinima both include this feature. The post didn't say if users would be able to multitask by snapping the app to the right side of their display either, however every app for the Xbox One does so far. As such, it's entirely possible that the post just glossed over the feature altogether.
The Xbox One is available at most some retail locations for $499. While the console formally launched almost a month ago, units have been in short supply since the official start of the holiday buying season at the end of November.

This article may contain affiliate links. Click here for more details.