Watch Live TV on Laptop From Anywhere With Time Warner Cable
Today Time Warner Cable subscribers can watch select cable channels on their laptops no matter where they are as long as they have an Internet connection.
The cable company announced the new feature on its Untangled blog. Now users who prefer to use the TWC TV browser app have the same options as users who watch TV on their iPhone, iPad or Android device.
TWCTV doesn't give users access to every channel in their cable package, but it does give them access to several of the most popular channels. The app lets users access 26 network channels and 11 news, sports and entertainment channels. The company promises that more local channels will make their way to the service sometime in the future.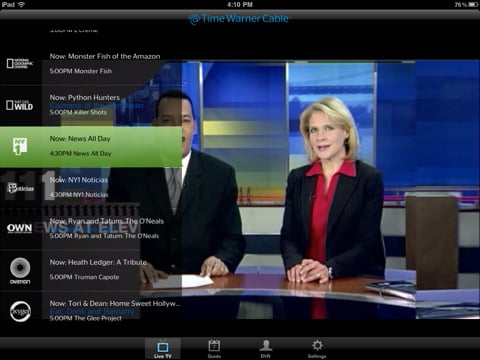 In addition to watching live TV, TWC TV also lets users watch On Demand TV shows and movies directly from the Mac or PC laptop. The service gives users access to more than 1,100 hours worth of On Demand content when they are away from home.
While the content offering is relatively small when away from home, TWC TV still offers a lot more content to users when they are at home. When connected to their home Wi-Fi network users have access to over 300 live TV channels and 4,000 On Demand TV shows and movies. At home the app is almost as good as having another cable box.
Time Warner Cable also recently released a TWC TV app for Roku players that lets users watch many live TV channels through their Roku box, effectively eliminating the need for an extra cable box for some users. Users who want to get access to everything still need a cable box, but the company's app is good enough for some users.
Those who want all of their available channels available to them wherever they go may want to look into buying a Slingbox. It's much more expensive than the free app, but it gives users the most options.