"Watch out for falling clocks!"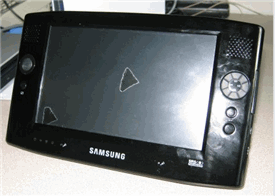 Sears on the UMPC team posted over at OrigamiProject.com's Ultra-Mobile PC Team blog about Dustin's Ultra-Mobile PC mixing it up with a heavy clock.
Apparently he had a small clock falls on his Ultra-Mobile PC kinda day, and the results were not pretty. However….., we all get to benefit from the display of the "innards" of a Samsung Q1!
Don't ask — just go look at the pictures! It is a rather interesting view of what the inside of one of these puppies looks like. Not sure why the damaged screen necessitated a complete dissection, but looks like fun anyway. Whatch wanna bet Dustin does not have to pay for his Q1?
I guess you could say that "Time caught up with this Ultra-Mobile PC !
Lol. I crack me up …..

As an Amazon Associate I earn from qualifying purchases.