Watch Out for "New" iPad Scams on eBay and Craigslist
The new iPad is in short supply at local stores and online at Apple , where you will have to wait 2-3 weeks for a new iPad.
The shortages and waiting means that many users will turn to eBay or Craigslist to buy a new iPad faster, even if it means paying more than retail.
if you are willing to pay an extra $100 to $150 for a new iPad now, instead of waiting weeks, you should make sure you're getting a 3rd Generation iPad, not just a "new iPad".
(Read – New iPad Review)
While Apple calles the latest version of the iPad, the new iPad, anyone selling a shrink wrapped iPad on Craigslist can call it a "new iPad".
If you don't know what to look for, you can be scammed out of your cash for nothing more than an iPad 2. There's nothing wrong with an iPad 2 for some users, but there is definitely something wrong with paying $600 or $700 for an iPad 2.
Complicating the process problem is Apple's design choice for the new iPad and the new iPad box. The new iPad looks very much like the old iPad, and the box is the same white background and side profile of the iPad.
Thankfully, there are two ways you can tell if you are buying a new iPad 3rd Generation, or an iPad 2.
The first thing to do is to look for the new iPad background. When you compare the background image on the iPad  on each box you can see a difference.
The iPad 2 box, shown to the left, has a lighter water droplet image. The new iPad, shown to the right, has a darker water image with ripples. The difference is most noticeable at the bottom of the iPad image.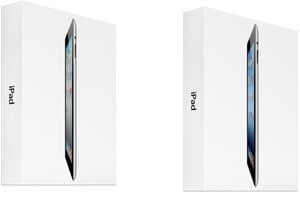 Another place to look is at the back of the box where you will see a part number that starts with a "MC". The part number indentifies which iPad you are purchasing, and is found near the barcodes on the back. As you can see below, I have a 32GB WiFi new iPad .
The new iPad models have the following part numbers.
WiFi (Black – White)
16GB – MC705LL/A – MD328LL/A
32GB – MC706LL/A – MD329LL/A
64GB – MC707LL/A – MD330LL/A
New iPad WiFi + 4G Verizon (Black – White)
16GB – MC733LL/A – MD363LL/A
32GB – MC744LL/A – MD364LL/A
64GB – MC756LL/A – MD365LL/A
New iPad WiFi + 4G AT&T (Black – White)
16GB – MD366LL/A – MD369LL/A
32GB – MD367LL/A – MD370LL/A
64GB – MD368LL/A – MD371LL/A
If you don't see the right background on the iPad box or a matching part number, you should walk away from the deal. It is best if you can meet in a very public place when purchasing on Craigslist anyway, but even more important if you need to walk away from a scam.
On eBay, if you pay with your credit card or PayPal you should have some protection, but make sure that you look closely at what you are bidding on.