Watch Over the Air TV on your iPad or iPhone with FilmOn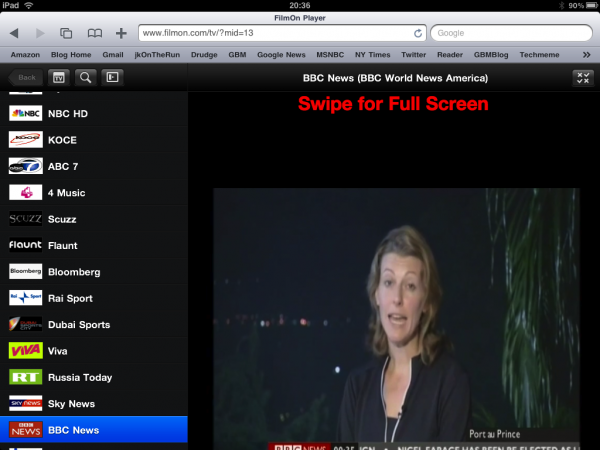 This may not last long as I'm sure the networks and Apple aren't too happy about it. In fact, the legal beagles are already at work to make this stop. That said, if you want to watch some live TV on your iPad or iPhone you can do so courtesy of FilmOn.com as of this moment. Go to that website in Safari on your iOS device and pull up the site. You can then have your pick of the major networks (ABC, NBC, CBS) being broadcast out of Los Angeles in addition to some other channels like the BBC. Be warned there are even some porn channels available. You make a selection and within a few seconds you're watching the over the air broadcast on your device.
I tried this out last night using a MiFi card and so I can't attest to the stream completely. I had some stutters and stops, but that might have been because of the pipe I was using. I don't know how this works on WiFi. Notice also that there is a big "swipe for full screen" instruction on the screen. Actually you do a pinch out gesture to get to full screen, not a swipe.
You can also do this on your laptop or desktop but it requires a download to work there. I'm guessing the FilmOn folks want to eventually create a service they can charge for, but then again the networks will have a say in that.
There's another service similar to FlimOn called ivi.tv and it is using broadcast feeds out of Seattle. It is a paid service at $4.99 a month.

As an Amazon Associate I earn from qualifying purchases.