Watch Super Bowl 46 on Your Android, iPhone or iPad With SlingBox
If you're away from your TV on Super Bowl Sunday, then consider watching the game on your iPad, Android device or iPhone.
It's not the same as watching on a big HD display, but not everyone will have that luxury due to work schedules or cable cutting.
You can watch on your iPhone, iPad or Android device with SlingBox.
Our own KT Bradford told you how to watch Super Bowl 46 on your Verizon phone with the Verizon NFL Mobile app for both Android and iPhone. Unfortunately, you're out of luck if you don't have a Verizon account.
Those of us on AT&T or Sprint aren't entirely out of luck. You can use a SlingBox to catch it on almost any mobile device or via your laptop's web browser.

What You Need
To take advantage you need two things. First, you need a SlingBox connected to both your TV viewing source and a high-speed Internet connection. I'll be sharing a full review of the SlingBox Pro-HD and SlingPlayer app for the iPad and Kindle Fire soon.
SlingMedia sells two boxes, SlingBox Pro-HD and the SlingBox Solo. With the SlingBox Pro-HD you get multiple inputs (component video, composite video, traditional cable and a built-in tuner for over the air signals) and HD (up to 1080i) while the solo is only SD and has just one video input.
You also need an app for your iPad, iPhone, Android device and now the Amazon Kindle Fire. They just added the Fire to the list this week. The app isn't cheap. You'll have to pay $29.99 for each device and no, it's not a universal iOS app. You have to pay $60 if you want it on both your iPhone and iPad. You can also watch over your web browser or the Logitech Revue Google TV box for free.
The SlingBox Pro HD itself costs $299.99. If you don't care about an HD signal, then go with the SlingBox Solo for just $179.99. I found the Pro at Amazon for $239.99 and the Solo for $159.81.If you want to ge this system up and running before the Super Bowl, you should consider Best Buy, which sells the SlingBox in most stores.
SlingPlayer Mobile Apps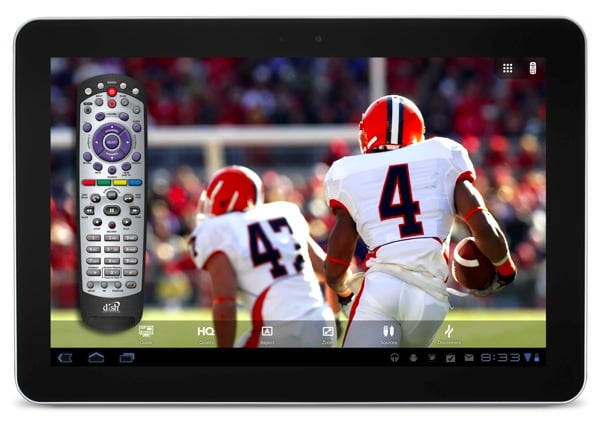 The apps work well if your Internet connection on both ends of the setup can carry sufficient bandwidth. I'd rather have a full HD signal to watch the Super Bowl, but if you're away from home and don't have access to the Verizon NFL Mobile App, then you can rely on the SlingBox and SlingPlayer. I tested the iPad app on a fast Wi-Fi network and on AT&T 3G. Below you'll see screenshots of both.
As you can see above, the image quality over 3G isn't excellent, but it isn't bad either. I took this using AT&T. On a Verizon Mi-Fi the video stuttered a lot, but I'm sure it was a problem with Verizon and not the app. This works as well as hulu Plus or Netflix. Below you can see that the Wi-Fi signal does look better, so try to find a good Wi-Fi signal for the game Sunday.
There's a cool by-product of using your iPad or iPhone to watch the game – screenshots of key moments! You can tweet them out to friends during the commercials.
I wouldn't pay $200-$330 (depending on which SlingBox you buy and where you get it) just to watch one football game, but you can use SlingPlayer to watch all of your TV shows on the go. Unless you would use this setup for other TV viewing, don't bother. If you do like to watch a lot of TV on the go, then the SlingBox is a pretty great setup.