Watch the Stanley Cup Playoffs on NHL GameCenter on Verizon 4G Phones & Tablets
If you want to follow your NHL Hockey team in Stanley Cup Playoffs on your smartphone or tablet, then download the Verizon NHL GameCenter app.
Any Verizon Wireless customer using a tablet or smartphone that's compatible with the app can download and watch games streaming live over 4G.
The app doesn't cost anything and you can get it in the Google Play Store.
When you do you can enjoy the playoffs using the following tools:
Complete coverage of each round of the playoffs
Countdown videos getting you geared up for the next game
Highlights
Cisco NHL Live video content
Live game radio
Scores and other stats
The above can be enjoyed by any Verizon customer. They also have a premium service that costs extra per month but includes the Stanley Cup Playoff game video and more.
Premium content for those who pay extra includes: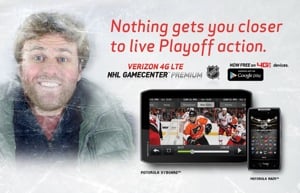 Live video of the NBC broadcast
Video on demand so you can watch the games after their over
Scores, schedules, stats, standings
Game and player photos
Player profiles
Select your favorite
The premium service costs $4.99 per month on top of your phone and data service. That gives you access all season to up to 40 out of market games as well as the above content.
You can learn more about Verizon's service at there NHL website.
If you're a real NHL fan and have an iOS device you may want to check out the new predictive interaction app that we told you about this week from Pre Play Sports.

As an Amazon Associate I earn from qualifying purchases.